Estimated read time: 2-3 minutes
This archived news story is available only for your personal, non-commercial use. Information in the story may be outdated or superseded by additional information. Reading or replaying the story in its archived form does not constitute a republication of the story.
Carole Mikita ReportingHow many of you have heard your children complain, "Oh no, my teacher says we have to read Shakespeare"? To the rescue comes a troupe from the Utah Shakespearean Festival.
His plays may be timeless but this is not your grandmother's Shakespeare. This lively troupe performs for those who must read "Twelfth Night" -- students.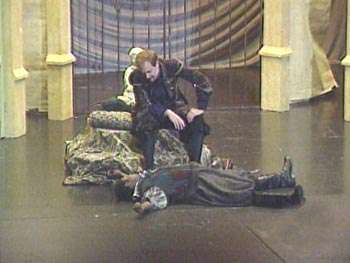 Michael Bahr, Festival Education Dir.: "There's a difference between seeing it on film and actually seeing it live, in the flesh face-to-face interactive with an audience."
For 12 years now a group from the Utah Shakespearean Festival in Cedar City has traveled through five western states, taking the Bard's plays to more than 60,000 students annually. On these trips, they are more than actors, they are teachers.
Jerrika Hinton, Shakespeare-in-the-Schools: "Back home I teach. And so when we do that part, I'm right in my element and that's perfect."
Kevin Patrick Murphy, Shakespeare-in-the-Schools: "We go to really, really small towns, like a whole town population of 800 and where they have next to no exposure to Shakespeare and that's just my passion in acting is Shakespeare. So I really like bringing it to the kids who just don't get this very often."
The actors say the connection between the written word and the action on stage happens every time.
Megan Morrison, Granger H.S. Student: "I understood it a lot more. I tend to have problems sometimes just reading it. I love to see it."
Hyrum Jensen, Granger H.S. Student: "It made it easier to understand Shakespeare and the beauty of Shakespeare and how it is."
Rebecca Bunkall, Granger H.S. Student: "The understanding level is so much higher when you can actually physically see someone moving around and you get the full meaning of what he meant."
When it comes to Shakespeare's plays, this troupe believes education has to go hand-in-hand with entertainment.
Shakespeare in the Schools has several free public performances next Tuesday and Wednesday at 11 a.m. at Salt Lake Community College's Grand Theatre and on Saturday, April 3rd at Granite High School at 7p.m.
×
Most recent Utah stories