Estimated read time: Less than a minute
This archived news story is available only for your personal, non-commercial use. Information in the story may be outdated or superseded by additional information. Reading or replaying the story in its archived form does not constitute a republication of the story.
(Salt Lake City-AP) -- A Murray man is dead following a one-vehicle accident that closed northbound I-15 for about an hour today during the noon rush hour.
Police identified the victim as 65-year-old Gene A. Kirk. They say he was driving on I-15 when he hit the back wheels of a semitrailer in front of him.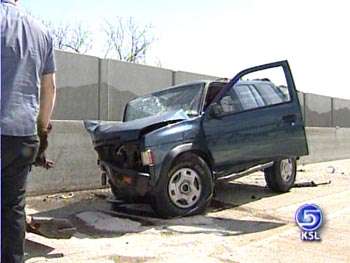 His sport utility vehicle then veered five lanes to the right, where he hit the concrete retaining wall.
He was pronounced dead at the scene.
The interstate was closed at 5900 South for about an hour while a transport helicopter landed and crews attended Kirk. They were NOT able to stabilize him for the flight before he died.
No other cars were involved.
(Copyright 2004 by The Associated Press. All Rights Reserved.)
×