Estimated read time: 1-2 minutes
This archived news story is available only for your personal, non-commercial use. Information in the story may be outdated or superseded by additional information. Reading or replaying the story in its archived form does not constitute a republication of the story.
John Daley ReportingThe fight over protest zones outside the LDS conference center moved to federal court today. At issue is a challenge by street preachers to the city's new speech regulations.
With Conference Weekend approaching, the city's on-going struggle over the First Amendment continues, specifically weighing the desire of people to express themselves versus the desire of someone else to be left alone.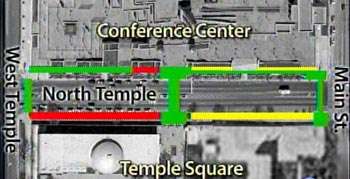 Last October two members of the Church of Jesus Christ of Latter-day Saints were arrested for assaulting two street preachers. It happened as crowds made their way to the LDS Conference Center.
Hoping to avoid violence this weekend, the city planned on having a heavy police presence, and it issued new rules. Protesters would be restricted to the areas a half block across the street from the Conference Center and a portion of the block directly in front.
A group of ministers sympathetic to conference goers also have reserved the areas. All other areas are "no standing zones" where people will have to keep moving.
But the World Wide Preacher's Fellowship has asked a federal judge to stop the rules from taking effect by issuing a temporary restraining order. They say the zones limit their First Amendment rights by establishing physical barriers that confine the preachers.
Geoff Dobbin, Attorney for Street Preachers' Fellowship: "The problem with the zones is the can't deliver their message effectively."
In court the city's attorney argued that it must protect street preachers from a potentially violent confrontation with a hostile crowd, whether or not the preachers want guarding.
The judge says she will issue her decision on Thursday, in plenty of time for all the players--city police, the LDS Church, and street preachers--to know what the ground rules for this weekend will be.
×