Estimated read time: 1-2 minutes
This archived news story is available only for your personal, non-commercial use. Information in the story may be outdated or superseded by additional information. Reading or replaying the story in its archived form does not constitute a republication of the story.
Richard Piatt ReportingA proposed constitutional amendment to define marriage sparked dueling protests at the University of Utah today.
You will get to vote on the Constitutional Amendment this fall, but this emotional issue already sparked strong feelings and a public rally.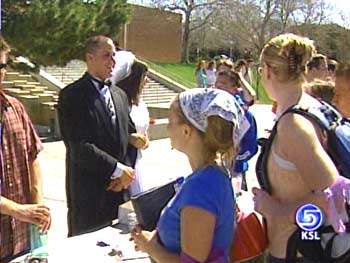 Matthew Overly, Supports Constitutional Amendment: "We're hoping to basically spark the debate on campus. It's a debate that needs to be heard, and we're not going to go out silently."
It turned into 'dueling rallies' on campus today. Each side of the duel has strong feelings about amending the constitution to define marriage as only a man-woman bond.
Derick Stephensen, Opposes Constitutional Amendment: "What we're trying to say here is be conservative with the constitution. And lesbian gay transgender relationships are about love."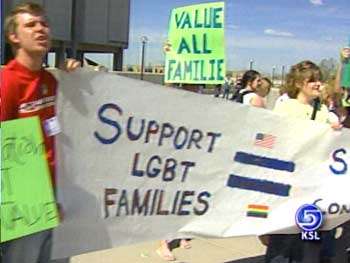 Lauren Littlefield, Opposes Constitutional Amendment: "There's no winner in this issue today. We're all out here today to create an open forum on campus."
Conservative students say they're here because they're a silent majority with their views typically hidden on a liberal campus.
Suzy Richardson, Supports Constitutional Amendment: "Nothing is ever made known from the right. And so people are amazed and shocked."
Signatures on petitions on both sides will merely send a message to lawmakers who have already spoken on the issue. One 'U' senior has his own reasons for signing.
Ty Nilsson, Supports Constitutional Amendment: "If you voice your opinion you're looked down upon as a gay basher. I mean you can have a gay week but you can't have a heterosexual week."
Everyone will have a voice on Election Day when the amendment will be up for a vote. Meantime at the protest today we saw minor confrontations, but mostly peaceful.
×