Estimated read time: 2-3 minutes
This archived news story is available only for your personal, non-commercial use. Information in the story may be outdated or superseded by additional information. Reading or replaying the story in its archived form does not constitute a republication of the story.
John Daley ReportingThanks to volunteers the number of orange-flagged crosswalks is up and the number of pedestrian injury accidents is down.
The idea for the flags came from Ketchum Idaho, where a Salt Lake City employee first saw them. They decided to try it here--and it seems to be paying off.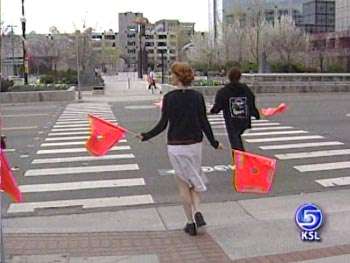 There's no doubt Salt Lake City's florescent orange flags have NOT gone unnoticed as either a tool for pedestrian self-expression or as a banner issue for the city's crusading mayor.
It seems the flags are popping up like spring daffodils. After initially installing flags at a few dozen locations downtown, the city started an "adopt-a-crosswalk" program and there are now over 100 such locations, each monitored by a volunteer who agrees to pay the replacement cost of 50 cents a flag.
An unscientific sampling of pedestrian opinion is positive.
S.J. Corona: "They're all right. They're cool. They help you get across the street."
Keri Anderson: "A lot of people use them. Some choose not to. But I think it's safer if you do. There's a lot of cars don't want to stop if they see you."
Matthew Crowe: "I like them. It stops the cars so you get across."
Elizabeth Holloway: "Safety is not a joke. I think they really help people see. I know they help me see people walking across the street."
According to Salt Lake City police, pedestrian injury accidents--a growing concern all over the Wasatch Front--are down since the program started. There were 119 last year, a decrease of 31% since 2000.
Dan Bergenthal, Dept. of Transportation: "We've installed flashing lights for pedestrians. We've changed some ordinances, countdown timers at all the intersections downtown. And all these things combined have helped bring the numbers down."
One problem the city is encountering--since the program started four years ago, thousands of flags have been taken and never returned.
Dan Bergenthal, Dept. of Transportation: "I'd say in the last four years since the program has been going we've probably lost 15 to 20-thousand flags. So a lot of flags."
Other Utah towns are reporting similar success. Park City, Spanish Fork and Provo, among others, have all installed orange signs. Officials in those towns said they like the flags--they seem to work. The biggest problem: those dreaded orange flag thieves.
×