Estimated read time: 1-2 minutes
This archived news story is available only for your personal, non-commercial use. Information in the story may be outdated or superseded by additional information. Reading or replaying the story in its archived form does not constitute a republication of the story.
John Daley Reporting Tough warnings today about a common summertime hazard way too many of us overlook.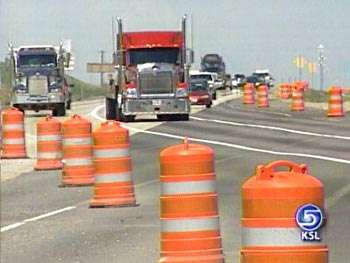 Summertime construction season is upon us. That means two things: You will be seeing orange--as in plenty of orange cones and orange flags; and there will be work zone accidents, including fatalities.
Today a news conference was held on this topic, featuring a stark set of statistics:
666 work zone accidents occurred in Utah in 2002.
Three people died in work zones in 2002.
And 259 motorists were injured in work zones in 2002.
Of course--the danger is tremendous for motorists, construction workers and highway troopers.
Carlos Braceras, Deputy Director/UDOT: "Rear-end accidents is by far and away the most predominant type of incident that we see in work zones. And essentially that results from people being surprised that they're entering a slow down condition."
Doug McCleve, Utah Highway Patrol : "Typically what we see in a typical year, statewide, is between 30 and 40 troopers or their cars are hit. Every year, that's way too many."
Here are a few tips for driving safely in work zones.
First: Expect the unexpected--that speeds may be reduced, traffic lanes change, and people may be working on or near the road.
Second: Slow down!
Third: Don't tailgate. Again, the most common crash in highway work zone is the rear-end collision, so leave at least two car lengths between you and the car in front of you.
Really it's common sense, but many drivers aren't tuning in because these accidents keep happening. In fact the numbers are getting worse. Nationally roadway construction zone-related fatalities have increased 70% since 1997.
×