Estimated read time: 2-3 minutes
This archived news story is available only for your personal, non-commercial use. Information in the story may be outdated or superseded by additional information. Reading or replaying the story in its archived form does not constitute a republication of the story.
Sam Penrod ReportingDr. Sharon Kay: "They need to realize it could very well happen to them or their family members."
Heroin addiction is becoming a deadly and dangerous trend in Utah. And more and more people appear to be shooting up.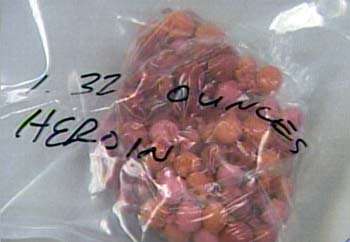 Just last week two young children found their parents had overdosed on heroin. Their mother died.
After that tragic overdose last week in Salt Lake, we went looking to see if heroin is becoming a drug of choice. What we found is that heroin abuse appears to be on the rise, but we also discovered why.
Last Wednesday night, an eight-year old girl called police, when she couldn't wake up her parents. Police found the mother dead; the father is hospitalized in critical condition. Investigators say the couple was injecting heroin.
On Friday night Orem police dealt with two separate heroin overdoses. A 17-year old boy was found barely breathing outside an apartment building. On the other side of town a 24-year old man had stopped breathing when his friends called police.
Lt. Doug Edwards, Orem Dept. Public Safety: "Both of these people were on the brink of death."
While these two heroin addicts survived, police say it's not always the case.
Lt. Doug Edwards, Orem. Dept. Public Safety: "We had a death here just a week or so ago, where we believe heroin was involved and sadly that happens way too often."
But why are so many people getting hooked on heroin? Drug abuse therapists believe it is directly linked to the abuse of prescription painkillers.
Dr. Sharon Kay, Exec. Dir., The Gathering Place: "As they start to search for these drugs illegally, they find they are very expensive. And because heroin is less expensive on the street, they switch over to heroin once they are addicted."
Kay reports about 40 percent of patients in her center are being treated for an addiction to an opiate, meaning either heroin or prescription pain killers such as Oxycontin. It's an addiction she warns can happen to anyone, and that denial can keep people from seeking treatment.
Dr. Sharon Kay: "Anyone can become addicted to pain pills, that's one again that sneaks up on people and not realizing what a danger it is to them, and of course it can happen to anyone at any age."
Treating heroin addiction can cause the body to go through severe withdrawal spells. But drug therapists say it is an addiction that can be successfully treated.
×