Estimated read time: 2-3 minutes
This archived news story is available only for your personal, non-commercial use. Information in the story may be outdated or superseded by additional information. Reading or replaying the story in its archived form does not constitute a republication of the story.
Shelley Osterloh ReportingSome of the world's best skydivers are coming to Utah this weekend for an unusual competition that pits athletes against the changing elements of an Olympic ski course.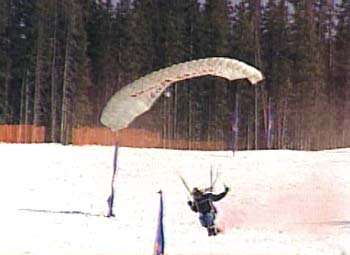 Spring skiing is in full bloom, but at the Olympic Slalom Course called CB's Run, a man with a parachute winds down the hill. Jon Devore is the course designer for the Red Bull Blade Raid.
Jon DeVore, Competition Director: "Over the last five years the landing of our parachutes has really evolved into the competition, because the canopies themselves have evolved and they've become much more of a high-tech flying wing."
Here's how it works. Pilots jump from a helicopter over the Park City Mountain Resort. At 80 miles an hour they maneuver their high performance canopies down to the start of the course and swoop within several feet of the ground, maneuvering over changing terrain between 17 foot high gates or air blades.
They are judged on speed and accuracy. Penalty seconds are added to their time if they touch down or hit an air blade.
Rook Nelson, Parachutist: "It's pretty tricky, just because the mountain's ever changing. Like for skiing, the conditions are always different."
Rook Nelson is one of the competitors. At just 23 he has more than 9,000 jumps. Only a fraction of the parachutists out there have the necessary skill and ability to run this kind of a course. And just to be a competitor you have to have at least 4,000 jumps.
Twenty of the World's best Swoopers ---as they are called --- were invited to compete in the two-day Red Bull Blade Raid. And event organizers say it's exciting just to watch.
Jon DeVore, Competition Director: "No matter how good you are going to see people not make it. You are going to see people wiping out. And the public loves that."
The Red Bull Blade Raid is free to the public and goes from about 8 to noon on Friday and Saturday.
×