Estimated read time: 2-3 minutes
This archived news story is available only for your personal, non-commercial use. Information in the story may be outdated or superseded by additional information. Reading or replaying the story in its archived form does not constitute a republication of the story.
Ed Yeates ReportingResearchers want to know what the healing power of oxygen will do for kids with cerebral palsy, or victims of stroke. The intriguing question could soon trigger some major collaborative studies with the Utah Hyperbaric Medicine Center.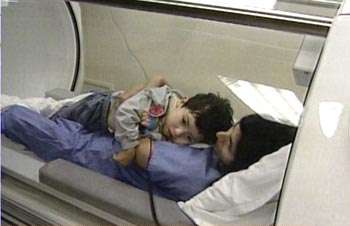 Oxygen takes on a unique healing quality when pressurized inside a device called a hyperbaric chamber. It's already used to treat victims of carbon monoxide poisoning and to speed up the healing of wounds.
But this therapy, at least for now, is somewhat unorthodox. Inside the chamber, Alison Steubing cradles her 4-year old son who has cerebral palsy.
One theory, and ONLY a theory: Is hyperbaric oxygen finding its way to isolated damaged brain cells that may not be getting enough oxygen?
Michael Garey, M.D., Utah Hyperbaric Medicine Center: "And there are thoughts that if you can get oxygen and blood to those areas, then they will be able to function again."
Julius has spastic quadriplegic cerebral palsy. Though he has had little control over his arms and legs…
Alison Steubing, Julius' Mom: "He took a spoon and brought it all the way to his mouthy by himself. He's never brought his hand to his mouth before without assistance."
But is it really the hyperbaric oxygen that's helping him do this?
Michael Garey, M.D.: "It's time to do some research studies that are well designed and carefully controlled to try and eliminate any other factors which may be leading to improvement besides the therapy."
By next summer there will be a very large walk-in hyperbaric chamber approximately nine feet in diameter by 26 feet long. Similar to a chamber at Lakeview Hospital, it will seat eight to 12 people at one time for three to six hour sessions. There will even be a bathroom inside.
So everything will be here in place for large scale studies to see if what's happening to a few cerebral palsy patients - or victims of stroke or other brain injuries - is for real.
Those collaborative studies here could include the University of Utah, Cornell University, and Primary Children's and LDS hospitals.
×
Most recent Utah stories