Estimated read time: 1-2 minutes
This archived news story is available only for your personal, non-commercial use. Information in the story may be outdated or superseded by additional information. Reading or replaying the story in its archived form does not constitute a republication of the story.
Sister Marjorie Hinckley's funeral is scheduled for 11 a.m. (MST) on Saturday April 10th. KSL-TV will begin LIVE coverage at 10:30 am. KSL Newsradio 1160 will also carry LIVE coverage beginning at 11:00 am. (Salt Lake City-AP/KSL News) -- A public viewing is scheduled today for Marjorie Pay Hinckley, the late wife of LDS Church President Gordon B. Hinckley.
Marjorie Pay Hinckley died Tuesday after falling ill in January. She was 92.
A public viewing is scheduled from 4-8 pm today in the reception room of the LDS Relief Society building.
A memorial service is planned for 11 am Saturday at the Tabernacle on Temple Square and it is also open to the public.
KSL TV will broadcast the funeral service live at 11 am Saturday. Just before, at 10:30, we'll rebroadcast a half-hour special 'A Conversation with Sister Marjorie Hinckley."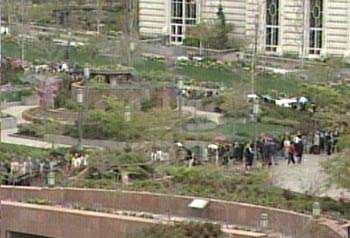 For those interested in attending the funeral service, doors open at 9:30 am. Attendees are asked to be in their seats by 10:30 am. There will be overflow seating in the Assembly Hall.
Interment will take place at the Salt Lake City Cemetery.
Marjorie Hinckley was born in Nephi to Phillip LeRoy and Georgetta Paxman Pay. She graduated from East High School in Salt Lake City in 1929 and began working for Owens Illinois Glass Company as a secretary.
The Hinckleys had been married 67 years. They have five children and 25 grandchildren.
(The Associated Press contributed to this report)
×