Estimated read time: 2-3 minutes
This archived news story is available only for your personal, non-commercial use. Information in the story may be outdated or superseded by additional information. Reading or replaying the story in its archived form does not constitute a republication of the story.
Ed Yeates ReportingThe University of Utah has started a unique new exercise program for women's teams playing soccer, basketball and volleyball. It's a dramatic move to prevent knee injuries in women athletes,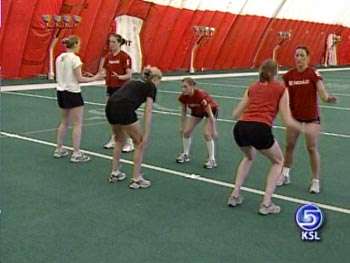 The University's volleyball team spends time on the exercise floor doing some jumps and maneuvers specifically designed to turn around what has become a devastating injury for women athletes.
It doesn't look like much on the surface, but if these athletes don't do it, they're four to six times more likely to suffer anterior cruciate ligament tears than their male counterparts. Why?
Kim Cohee, Physical Therapist, U of U Sports Medicine: "Generally, they tend to have wider hips and a tendency for their knees to come at a greater angle inward. So we call it a cue angle. And that can put greater stress on the knees."
So these athletes are doing specific jumping maneuvers, landing on their feet and knees in a little different position. They're also practicing stretching and balancing designed to fit their anatomy and how they play the game.
Physical therapists Kim Cohee and Barbara Fink say while the University here has just started this program, the data coming from other parts of the country where female athletes have been doing this for some time is dramatic.
Barbara Fink: "It's very significant. In three of the best researched programs in the world, they've have an 85 percent decrease in the incidence of ACL tears. And those numbers then approach the incidence in male athletes."
The exercises are done long enough and frequently enough so athletes don't even have to think about how they're landing, even in the toughest parts of competition.
Shelly Sommerfeldt, U of U Volleyball Team: "They've really emphasized having your knees over your toes so you don't have your knees coming in like this or outward. So that's been something we've been able to focus on that we've seen injuries from that in the past that we can prevent now."
Women athletes know an ACL tear can put them out of the game - out of competition for a full season. This preventive program is just what trainers and coaches have been looking for.
×