Estimated read time: 2-3 minutes
This archived news story is available only for your personal, non-commercial use. Information in the story may be outdated or superseded by additional information. Reading or replaying the story in its archived form does not constitute a republication of the story.
Tonya Papanikolas ReportingHome has never looked better than it does today for Utah troops just back from the war in Iraq. Over one hundred men and women returned home to a happy welcome from family and friends.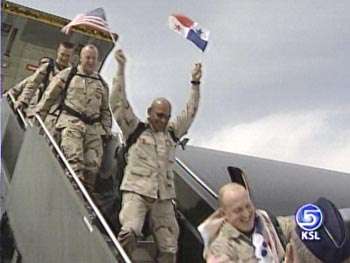 Almost a dozen Army reserve soldiers from the 200th medical detachment walked down the corridor of the Salt Lake Airport, returning to cheers, hugs and joy.
Spc. Eric Clock, Utah Army Reservist: "It's a day I've dreamed of for over 400 days. It's finally here."
Helen Cooley, Greeting Son: "My 19-year old son is home from the Middle East. We said farewell to him a year ago, March 12 right here at this spot. We've missed his birthday, Christmas, easter,
These soldiers provided medical support and consultation in Kuwait and Iraq. These weren't the only soldiers with a happy homecoming today. Earlier, about 120 National Guard members from the 142nd military intelligence batallion returned from Iraq.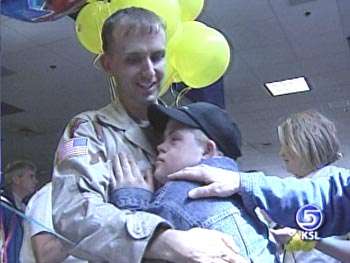 Laurel Jenson, Military Mother: "When the plane landed my heart began to swell I thought he's on the ground, he's on the ground. And then when we saw him get off the plane the first time it was overwhelming; it's wonderful."
The 142nd battalion was mobilized in January 2003 and spent time collecting and analyzing intelligence. They too are ready for civilian life.
Capt. Brian Wood, 142nd Military Intelligence Battalion: "Just getting back to a normal routine, just the little things the moments. I don't know just life."
The soldiers said they expect life back home will be less stressful. One reservist told us the thing he was looking forward to most was driving his car.
The word was not so good for other Utahns who learned their loved ones' stay in Harm's Way will be extended.
Soldiers with the Utah National Guard's 1457th Engineer Battalion are staying in the Middle East. That's the word today from Utah Guard officials.
The unit was scheduled to return to Utah this week and had already left Iraq. The soldiers are now in Kuwait. Today officials with the Utah National Guard say the soldiers' mission in Iraq has been extended, but their mission and the length of their extension has not yet been determined.
The 521 members of the 1457th were activated in February 2003 and deployed in May.
Utah National Guard officials will meet with family members Thursday and Friday to discuss the extension.
×
Most recent Utah stories