Estimated read time: 2-3 minutes
This archived news story is available only for your personal, non-commercial use. Information in the story may be outdated or superseded by additional information. Reading or replaying the story in its archived form does not constitute a republication of the story.
RIVERTON -- A new hospital opened Monday in the southern part of the Salt Lake Valley. The Intermountain Riverton Hospital is the first in the area, treating a young growing population.
Kennedy Noel Meyer was the first baby born in the new hospital.
"First day, lots of nurses trying to figure out where things were at; but a pretty good experience here," said Steven Meyer, Kennedy's father.
Her mother, Michelle Meyer, said, "It was interesting having so much attention because there weren't a lot of other patients."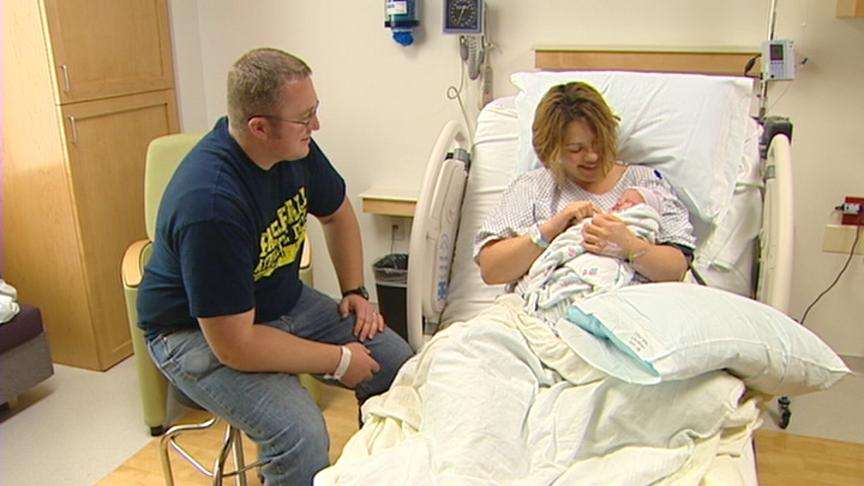 The couple was congratulated with a crib and gift basket for being the first to deliver at Riverton. The new hospital is focused on babies and delivering because, according to Intermountain Healthcare's research, over 75 percent of the population in the southwest valley is 18 years and younger.
"This is one of the largest growing populations in the valley," said nurse administrator Judy Cameron. "So really, having health care closer to home is valuable in this community."
The young, growing population is also a reason why Primary Children's Medical Center has an outpatient facility at the new hospital. According to its private research, one-third of primary's patients in Salt Lake come from the southwestern part of the valley.
Within six hours of opening the doors, hospital staff had completed four surgeries. The emergency room had four patients in the same amount of time.
"Our first patient got here before we opened this morning, at 5:30 this morning. They seemed excited to have a hospital in their community," said RN Roxanne Wilson.
The hospital boasts nearly 60 private patient rooms, five state-of-the-art operating rooms, surgical care; the works!
The Meyers are glad it opened Monday in time for Kennedy. If not, they would have had to drive to Sandy to deliver. And, it's a good story for when Kennedy gets older!
"When she's older, she'll look back and be pretty proud of it," Steve Meyer said.
The hospital has been under construction for the past four years. It sits on 64 acres of land at 3741 W. 12600 South.
E-mail: abutterfield@ksl.com
×
Photos
Most recent Utah stories