Estimated read time: 2-3 minutes
This archived news story is available only for your personal, non-commercial use. Information in the story may be outdated or superseded by additional information. Reading or replaying the story in its archived form does not constitute a republication of the story.
Sandra Yi ReportingWe have new information about a shooting late last night in South Salt Lake City. Multiple rounds were fired at a driver on 2700 South and about 200 East.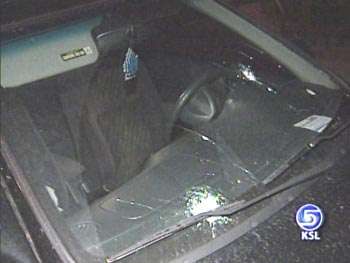 The suspect fired eight shots. Now police don't believe the shooting was random; they say the victim is a gang member. What happened has neighbors there on edge.
Matt Woolston: "It's pretty crazy. I've never seen anything like that around here."
Neighbors describe a quiet night, shattered by gunfire.
Scott Wagstaff: "I heard one shot and thought maybe it was just a backfire on a car, but then they were just in rapid succession, just one right after another."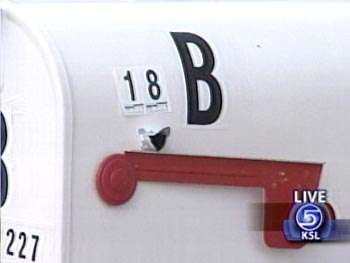 Matt Woolston: "There was probably seven to 10 shots fired. He just kept going."
Matt Woolston went outside and saw two cars driving down the street.
Matt Woolston: "One car was driving east and the other car was right behind him, and as he was behind him, he was firing on him."
The victim's car was riddled with bullets. One of them hit the back window and came out through the front windshield. Police say it was a close call. The victim is lucky to be alive.
Sgt. Steve Daniels, South Salt Lake City Police Dept.: "The first bullet that penetrated the vehicle just barely missed him, just barely missed him."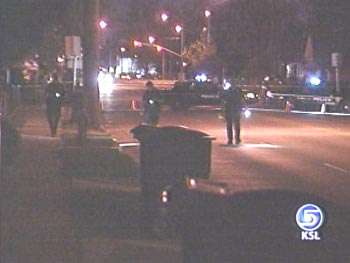 Scott Wagstaff: "I could see two bullet holes. One looked like right where the driver sat and then one right where the passenger sat, and then the back window of his car was blown out as well."
Wagstaff called 9-1-1. The victim, trying to get away, had quickly swerved into his driveway and hit a wooden fence. Witnesses saw the suspect's car speed off, but they say the gunfire didn't stop.
Matt Woolston: "The way he was firing, I'm surprised some of the houses didn't get hit."
There are bullet holes in a mailbox and shattered glass on the street.
Police are still investigating. The victim told officers he was on his way home from work. He says he didn't recognize the suspect's car or anyone inside.
Matt Woolston: "He was pretty much in shock. He didn't really know what was going on."
Police are still looking for the suspects. Two or three people may be involved. They don't have a specific description of the suspect's car, but witnesses describe it as a dark, early 90's Honda Civic or Integra. You can call the South Salt Lake Police with any information.
×
Most recent Utah stories