Estimated read time: Less than a minute
This archived news story is available only for your personal, non-commercial use. Information in the story may be outdated or superseded by additional information. Reading or replaying the story in its archived form does not constitute a republication of the story.
(KSL News) A Bountiful man finds himself with six inches of water in his basement. The flooding wasn't from the rain, instead a huge water main break!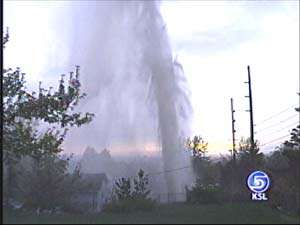 An 18 inch Weber Irrigation pipe broke just before 8:00 last night, sending a geyser of water shooting into the air.
Deputy Chief Blaine Porter/ Bountiful City Fire Dept.: "There are some power lines behind me. The top line -- it was at least 20 feet above that. So I'm putting the geyser heighth at probably 90 feet.. 90 to 100 feet."
It looked almost like Old Faithful!
The water plume shot into the air for more than an hour and sent rocks and mud flying all over. The force of the water damaged a car and broke a basement window of one home. Crews were able to drain some of the water by opening the garage.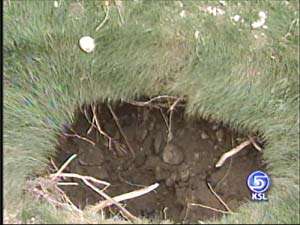 Fortunately no one was hurt.
The area is blocked off. And crews began fixing the broken pipe this morning.
×