Estimated read time: Less than a minute
This archived news story is available only for your personal, non-commercial use. Information in the story may be outdated or superseded by additional information. Reading or replaying the story in its archived form does not constitute a republication of the story.
(KSL News) -- Eighth graders at Granite Park Middle School did more today than just talk about pollution. They went outside and cleaned it up!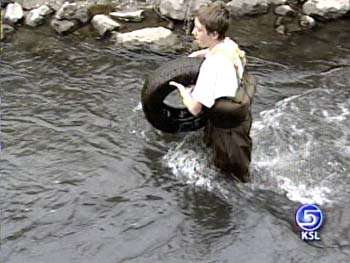 About fifty students went to Mill Creek, which runs along the backside of the school, and cleaned things up. Some even ventured into the cold water to pick up hidden debris, like an old speaker.
Danny Mantles, Student: "It's just great to be helping out the community, man. We're going to be planting some trees along here - make this look a lot nicer for the community and make our school look a lot better, instead of all this trash in the creek beside our school."
Science teacher John Anderson wanted his students to experience a living laboratory- not just words or pictures in a textbook.
John Anderson, Science Teacher: "To help the students learn exactly what we're doing, what mankind does to the environment."
Anderson wanted his students to see how much human garbage can accumulate - even in a small section of the creek - in just one year.
×