Estimated read time: 2-3 minutes
This archived news story is available only for your personal, non-commercial use. Information in the story may be outdated or superseded by additional information. Reading or replaying the story in its archived form does not constitute a republication of the story.
Shelley Osterloh ReportingSALT LAKE CITY — A piece of American history vanished Tuesday when a wrecking crew demolished the world's first Harman's Kentucky Fried Chicken restaurant.
Today there are more than 11,000 KFC restaurants in more than 80 countries, but the first was in Utah at 3900 S. State Street. Not much of it is left now but a pile of rubble, but this is where food service history was made.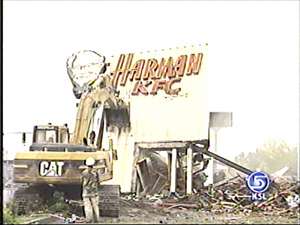 Crews started at daybreak razing the building. The big Col. Sanders sign was the last go and it just took a push.
For those who watched — like the restaurant's current manager — it was tough.
Tracy Gingell, restaurant manager: "Being able to talk to talk with all the customers that have been coming in for the last 52 years buying Kentucky Fried Chicken, their stories. Meeting Pete Harman, seeing the Col. coming in. There's a lot of history in this old place."
It was at this very site where Pete Harman opened a little restaurant in 1941 called the Do Drop In — a little diner that he eventually changed into a drive-in with car hops and take-home service. He called it Harman's Cafe.
Soon after that, at a convention in Chicago, Harman met the owner of another cafe, Harlan Sanders. The two struck up a friendship and Sanders came to Salt Lake to visit.
In a borrowed pressure cooker, Sanders fixed his fried chicken with 11 herbs and spices he purchased at the grocery store. In a 1995 interview, Harman says Sanders gave him the recipe.
Leon "Pete" Harman, 1995: "He wasn't thinking of franchising, just two restaurant guys trying to help one another."
The next day, Harman told his sign painter to put an advertisement in the window for the new item; they called it Kentucky Fried Chicken.
With a handshake, Sanders gave Harman recipe rights in Utah. In exchange, Harman gave Sander's product a name and lent his experience to Sanders' franchisees who followed.
Leon "Pete" Harmon: "The public was waiting for it, and nobody knew it."
It's sad to see this bit of history go, but in three months a new KFC restaurant will open up here, much larger and nicer, but with that old original recipe for Kentucky Fried Chicken.
The target date will be late July when KFC turns 52 years old.
×
Most recent Utah stories