Estimated read time: 2-3 minutes
This archived news story is available only for your personal, non-commercial use. Information in the story may be outdated or superseded by additional information. Reading or replaying the story in its archived form does not constitute a republication of the story.
John Hollenhorst ReportingWhen it rains, it doesn't always pour, but it almost always aggravates Howard Geesey of West Valley City, and a lot of his neighbors too.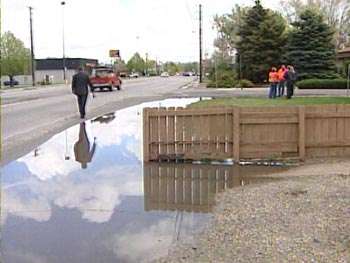 A puddle appears every time it rains; a significant safety hazard that sometimes lasts for weeks. It's been going on for six years, neighbors say, because paving crews made a big booboo.
Puddles happen when rainwater doesn't have any place to go. So it just sits there, alongside 3500 South, forcing pedestrians into one of West Valley's busiest streets. And it stays on Howard Geesey's lawn year after year.
Howard Geesey: "I re-sod this property every year to no avail."
Here's why it happens. Most side streets that connect to 3500 South have at least a shallow drainage channel, allowing water to flow to the nearest storm drain.
But at 5700 West, a layer of asphalt several inches thick has been put right on top of the drainage channel and sidewalk. That means 5700 West is now essentially a dam.
Howard Geesey's electric pump does little good.
Howard Geesey: "Yes it frustrates me. I think if they just dug a trench underneath the asphalt and laid a piece of pipe there, the water would go down to it's normal storm drain where it's supposed to."
It's not a small issue for pedestrians along 3500 South. In a one-mile stretch we saw three places where side streets and driveways are paved in such a way as to dam up water. Moms with strollers are often forced off sidewalks and alongside heavy traffic.
Stephanie Gallegos, West Valley City: " Yeah, it's kind of scary because you don't know what's coming behind you, you know what I mean?"
We saw one lady who avoided a big puddle by walking right down the middle of 3500 South!
Geesey says his complaints have gone unanswered. When we made a couple of calls, it immediately prompted on-site visits by West Valley City and UDOT experts. They say the problem has gotten worse in recent years as maintenance crews put down more and more asphalt.
Shana Lindsey, UDOT Engineer: "Now that we see there's a problem, we're going to fix it."
UDOT is hoping for a quick fix on this problem sometime soon. Long-term, the agency is studying the possibility of a major upgrade for 3500 South depending, of course, on the availability of funds.
×