Estimated read time: 2-3 minutes
This archived news story is available only for your personal, non-commercial use. Information in the story may be outdated or superseded by additional information. Reading or replaying the story in its archived form does not constitute a republication of the story.
(By ALEXANDRIA SAGE Associated Press Writer)
A lucky contest winner in Payson, Utah, may soon be getting a sweet deal.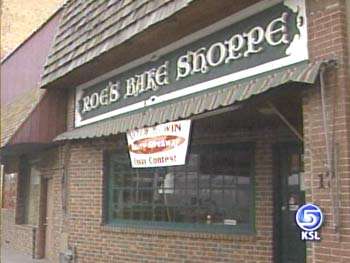 The owners of Roe's Bake Shoppe on Main Street have decided to give their bakery away to the winner of an essay contest.
"We wanted to keep it going, it's really the heart of this little town," said Paul Penrod, 39. "So we thought, how could we keep it going without having to have all the overhead and we thought, 'Let's give it away."'
Penrod and his wife, Lolly, bought the 60-year-old bakery with its brick facade, high ceilings and oak floors in 2002 and remodeled it, but the stress of full-time baking "wasn't what we expected," said Penrod, a former accountant.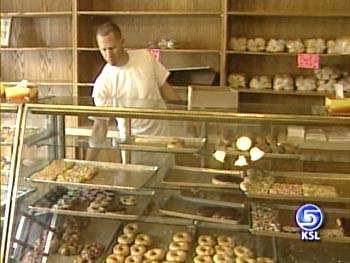 The couple decided to sell the bakery, but after a few unsuccessful attempts, settled on the more unconventional approach.
This week, Penrod kicked off an essay contest to determine the bakery's next owner.
Contestants will write an essay of less than 300 words titled, "Why I want to own Roe's Bake Shoppe." The essays, along with the $100 entry fee, will be accepted until July 1 and judged by a panel of 25 downtown merchants.
Penrod estimates that if they receive at least 2,000 entries, they'll be able to pay off their loans and someone else will have the opportunity to "carry on the tradition" in this community of about 16,000 residents, about 30 miles south of Salt Lake City.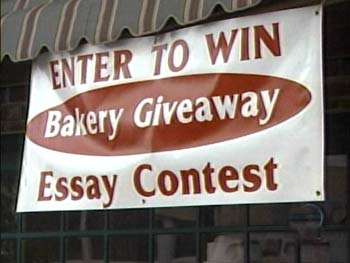 "They'll end up with a beautiful historic building, a bakery, and priceless recipes that have been around for years," Penrod said.
The bakery's most popular items are the raisin-filled cookies, the pot pies and the eclairs. But all those baked goodies mean early hours and long days.
"Most bakers bake eight to nine hours a day and I'm here 18 hours," said Penrod, who arrives at the bakery at 3 a.m. each day. "It's a two-man bakery."
One potential owner who knows what to expect is employee Sara Bigler, 21, who says she's already working on her essay.
"I don't think a lot of people know how much Paul has put into the building," she said. "He's completely reconstructed this building. I would hate to see all the work he's put into it go."
Still, Bigler has some ideas of her own.
"I was thinking of putting a smoothie bar in, a jukebox, (making it) more of a teenage place," she said.
Penrod acknowledges there is no backup plan in case they don't hit that magic number of 2,000 entries to pay off loans, but he's searching for his next job.
In the meantime, Penrod will continue baking until the morning when he can sleep in.
"I can't sleep in until I've got someone in here to carry (the business) on," he said. "We'd have a mob if they didn't get their doughnuts in the morning."
(Copyright 2004 by The Associated Press. All Rights Reserved.)
Roe's Bake Shoppe
17 S Main
Payson, UT
(801) 465-3510
×