Estimated read time: 2-3 minutes
This archived news story is available only for your personal, non-commercial use. Information in the story may be outdated or superseded by additional information. Reading or replaying the story in its archived form does not constitute a republication of the story.
Keith McCord ReportingWhen you plot a 26-mile route for a marathon in a busy metropolitan area, you're going to have a few traffic "issues". Tomorrow morning the starting gun goes off at 7:00 a.m.
Greg Reid, Asst. Race Dir.: "Just because the race is coming to your community doesn't mean it'll be 100 percent road closures."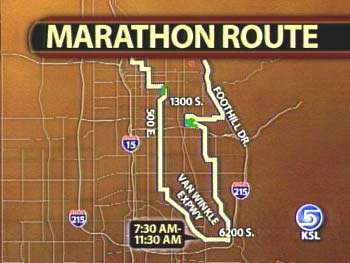 Organizers of the First Annual Salt Lake City Marathon and 5K are spreading the word about where their runners will be, and the effects on traffic.
This morning some of the participants -- many marathon record-holders from around the world -- were introduced. These athletes will be part of a field of approximately 3,000 runners. Another 2,500 will run the 5K race. With that many runners, there's a good chance you'll see them when you're out and about.
The route goes like this: At 7:00 a.m., the marathon starts at the University of Utah. Runners will wind down Foothill Blvd. to Sugarhouse Park. As far as traffic conflicts go, runners should be clear of this section by about 7:45.
As the race progresses runners will spread out, so at the southern tip of the run, at 6200 South, there could be traffic delays until 11:30.
Greg Reid, Asst. Race Dir.: "Sure there will be some speed restrictions around the runners, but many times the roads are open. When it's tight and the road is narrow, it'll be 100 percent closures."
It's estimated that the last runners will reach the finish line at The Gateway about 2:30. So, if you plan to be in the downtown area tomorrow, you might have to zig and zag in spots to get where you're going.
Greg Reid, Asst. Race Dir.: "Many times we're just in northbound or southbound lanes traveling, and the opposite direction is open."
UTA buses and TRAX trains will be affected by the race tomorrow, primarily between 7:00 a.m. and 2:00 p.m. And we're told that mail delivery in some areas will be affected-- everyone will get their mail, but in some areas at a different time.
×
Most recent Utah stories