Estimated read time: 2-3 minutes
This archived news story is available only for your personal, non-commercial use. Information in the story may be outdated or superseded by additional information. Reading or replaying the story in its archived form does not constitute a republication of the story.
Ed Yeates ReportingResearchers say doctors often miss the underlying cause of many cases of depression, chronic fatigue, high blood pressure, heart failure, and even fatal car crashes. A sobering study by Utah researchers now targets a disorder that robs us of good health while we sleep.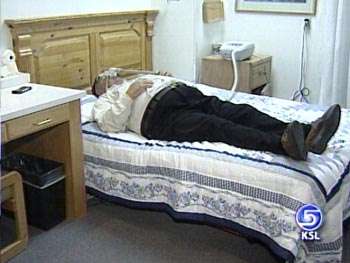 Highway accidents, lack of concentration on the job, malaise, melancholy, severe depression, a failing heart and more. In a significant study of over 200,000 patients, researchers at LDS Hospital's Sleep Disorders Center say sleep apnea more often than not was the primary culprit.
Robert Farney, M.D., LDS Hospital Sleep Disorders Clinic: "The problem is that there are so many expressions of sleep apnea and it's so easy to treat the secondary manifestations that it's very very easy to overlook the root cause which is sleep apnea."
In more people now, especially those overweight, the throat which naturally relaxes during sleep, collapses - temporarily blocking the airway. The brain awakens the body over and over again to restore breathing.
Dr. Farney: "So you may have an arousal but it's so quick and brief that the person that has it is never aware of that."
Robert Russon: "Just tired all the time. I would fall asleep while watching TV. You would sit down for a few minutes to collect your thoughts at your work, and I would fall asleep here."
No wonder his daytime hours were so miserable. Sleep center experts told Robert Russon he was unknowingly waking up 95 times an hour almost every night.
Cardiovascular problems, irritability, moodiness, nodding on the job and behind the wheel--according to the study sleep apnea may be responsible for all of them.
So how much are doctors overlooking the diagnosis? They're missing it in 82 percent of the men and 93 percent of the women. And researchers say those stats are dramatic to say the least.
Sleep apnea is easily treatable with what is called a C-PAP machine that keeps the airway open during sleep.
×