Estimated read time: 2-3 minutes
This archived news story is available only for your personal, non-commercial use. Information in the story may be outdated or superseded by additional information. Reading or replaying the story in its archived form does not constitute a republication of the story.
Carole Mikita Reporting"Saints and Soldiers", the latest movie from Latter-day Saint filmmakers, now has a PG-13 rating. Several months ago we reported that the Motion Picture Association of America had labeled it an 'R'.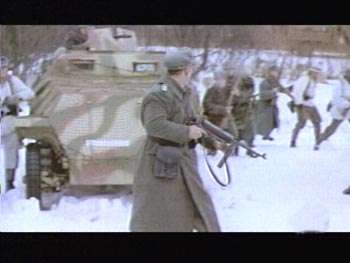 It's interesting that all filmmakers--the rich and famous like Stephen Spielberg and Stephen King and the as-yet-unknown Ryan Little and Adam Abel--all have to deal with the same small group of people who stamp their films and categorize them.
Set in World War II, 'Saints and Soliders' isn't really a Latter-day Saint film. Only one character is of that faith. But the filmmakers are Mormons and to them an 'R' rating was a potential box office disaster.
For four months Adam Abel and Ryan Little went back and forth with the Motion Picture Association of America, trying to find out what they could do to get their film a 'PG-13'.
Adam Abel, "Saints and Soldiers" Producer: "It was never real specifics. So at first, it really felt like we were chasing our tails and maybe they were just having fun with a couple of independent filmmakers that don't have names in Hollywood."
But Abel and Little realized, even famous filmmakers fight these battles and what it eventually came down to was changing shots, not editing out scenes.
Ryan Little, "Saints and Soldiers" Director: "If there was a close-up of something that looked a little too realistic, such as operating on a leg wound, we just used a different cut or different angle on it, maybe a little wider. So we didn't emphasize it quite as much and really, we've only changed a few seconds of the film."
Thousands in audiences around the country have already seen "Saints and Soldiers". It won top prizes in 15 U.S. film festivals and already has sold in distribution internationally. But it's appealing to the hometown crowd that they worried about.
To the rescue were Hollywood insiders who assisted Abel and Little in appealing their original 'R" rating.
Adam Abel: "We've had academy award-winning producers who throw their hands up with the MPAA and said, 'Just go with what they gave you.' And others who said 'Ok, here's the process, this is what helped us.' And so it's been nice to see us as little guys being mentored and assisted by the big guys."
"Saints and Soldiers" premiers here on August 6th. There is a way to see it sooner; it screens tomorrow, Wednesday at Trolley Corners at 6:30 p.m. For a $20 donation you can see it and help the Timp View High School band go to Normandy for this WW II 60th anniversary.
×