Estimated read time: 2-3 minutes
This archived news story is available only for your personal, non-commercial use. Information in the story may be outdated or superseded by additional information. Reading or replaying the story in its archived form does not constitute a republication of the story.
Shelley Osterloh ReportingThis afternoon doctors at the Moran Eye Center implanted an artificial cornea in the eye of Utah woman. It is the first such procedure done in the Intermountain West. The artificial cornea may improve the vision of patients who don't accept or can't get human donor corneas.
Even though it's a new procedure, 67-year old Marilyn Riding and her husband Ron are optimistic the artificial cornea can help her vision. She sees well out of her right eye, but her left sees only light and shadows.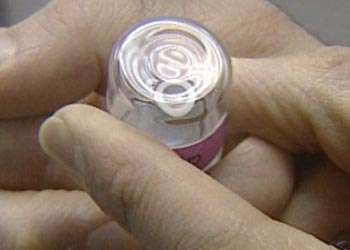 She has had two cataract surgeries and one failed corneal transplant, which left her eye irritated and painful. She's hoping the artificial cornea called AlphaCor will help.
Marilyn Riding: "And if this doesn't work, the next option is to remove the eye and have an artificial one, and that would be better than what I've got."
The cornea is the clear window at the front of the eye. When the cornea is damaged, scarring and inflammation can hinder passage of light and prevent vision.
The artificial cornea isn't expected to replace the need for human donated corneas, but 20% of patients who receive donated corneas, reject them.
Doctor Majid Moshirfar of the Moran Eye Center says patients do not reject artificial corneas and the procedure provides new options for them.
Majid Moshirfar, M.D., F.A.C.S.: "So it may open a gate of hope for people we have already given up on."
The artificial cornea is a tiny curved flexible disk. The central part is transparent and acts like the cornea lens. The rim resembles a sponge, allowing the patients' own tissues to attach to it. The device is inserted into the eye tissue and stitched into place. After three months the flap of tissue and thin layer of old cornea are removed, exposing the new artificial cornea.
Majid Moshirfar, M.D., F.A.C.S.: "There are over 10 million people who suffer from corneal blindness an they will never have a chance to even get a cornea for transplantation. You can actually provide them with this prosthetic device."
The artificial cornea may eventually restore vision to many people like Marilyn Riding.
The artifical cornea was developed by an Australian company. It costs about $7,000.
×