Estimated read time: 2-3 minutes
This archived news story is available only for your personal, non-commercial use. Information in the story may be outdated or superseded by additional information. Reading or replaying the story in its archived form does not constitute a republication of the story.
Ed Yeates ReportingWhen clinical trials begin five years from now, a newborn baby here in Utah could be implanted with a Utah made artificial heart pump the size of a quarter.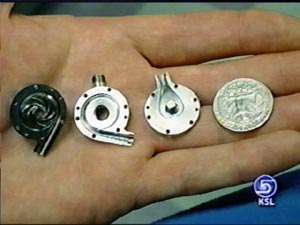 The pump, already in development, is the size of quarter. Reduce an adult's six foot frame down to the size of a newborn, and that's the kind of implant we're talking about.
With a 4.5 million dollar contract from the National Heart, Lung and Blood Institute, the parent company, Medquest will now develop this little tiny pump for newborns and babies up to two years.
Pratap Khanwilkar, Senior Vice President, MedQuest: "I expect that by the end of this NIH contract that we have received - by the end of the five years - that we will be in a position to start clinical trials with this device."
The artificial heart is not only tiny, but revolutionary in how it works. Unlike the big, pulsating heart assist pumps, the HeartQuest pump uses a continuous flowing impeller, magnetically suspended inside the case.
That means the almost silent mechanism that drives the blood never touches the sides of the pump case. With only one suspended moving part, there's little or no friction to wear things out.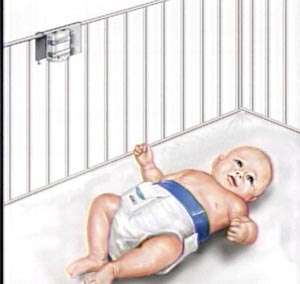 For infants born with congenital heart problems or defects, the tiny pump will keep the baby alive and healthy until surgeons can make repairs on the real heart, or until the child grows enough to have a heart transplant.
A baby with the tiny heart could move freely. The only evidence of the implant is a belt just above the diaper and a wireless, electronic controller on the side of the crib.
Doctors John Hawkins and Robert Shaddy at Primary Children's Hospital will help in the development of the new heart. Primary Children's, LDS Hospital, the University of Pittsburgh and the Children's Hospital of Pittsburgh will be doing the clinical trials.
×
Most recent Utah stories