Estimated read time: 2-3 minutes
This archived news story is available only for your personal, non-commercial use. Information in the story may be outdated or superseded by additional information. Reading or replaying the story in its archived form does not constitute a republication of the story.
Kimberly Houk ReportingTwo men living in Utah are trying to convince the State Department to let them bring their mother here for a visit, but she lives in war-torn Serbia, and embassy officials are afraid once she's here, she will stay.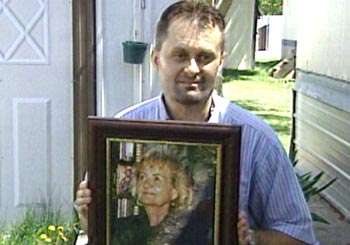 Embassy officials say they're not allowing the mother to come to America because they say she won't go back to Serbia. And the tightening up of America's borders since 9-11 has twin boys in Logan wondering why their 71-year old mother would be treated like a risk.
Sasha and Sinisha Ivans consider themselves blessed. Helped out of a war-ravaged country five years ago by two Utah State University professors, these two will graduate near the top of their class this summer with doctorate degrees in Irrigation Engineering. But come graduation, someone very important to them will be missing.
Sasha Ivans: "She sacrificed a lot. She just gave up everything just to give the two of us opportunity to have a better life."
These two had to leave behind their 71-year old mother in Serbia. Now they're trying to bring her to America for a visit, but the American Embassy has denied her a visiting visa.
Sinisha Ivans: "I started of course to cry, and she was just balling."
Their mother has struggled her whole life. During World War II, at the age of nine, she was placed in a concentration camp in Croatia. She ended the 20th century as a refugee running from the ethnic cleansing sweeping through the Balkans. And now her sons want to show her what life is like in America.
Sasha: "She didn't ask embassy for an immigration visa, she just asked to get to come and visit."
Sinisha and his wife traveled to Serbia to plead her case, using a letter Senator Hatch wrote in favor of granting the visa, and showing officials proof their mother would come back to her retirement account and the home she owns in Serbia.
But the recent denial has both boys worried she'll never get the opportunity to come see them in America to meet her new daughters-in-law and her new little granddaughter.
Sasha: "When you are applying for the US visa the first question is have you ever been denied for it? And now she has to place yes, and you do that you are red flagged."
×