Estimated read time: 1-2 minutes
This archived news story is available only for your personal, non-commercial use. Information in the story may be outdated or superseded by additional information. Reading or replaying the story in its archived form does not constitute a republication of the story.
Kimberly Houk ReportingSalt Lake police plan to arrest a young man who they say slipped Xanax, a prescription anti-anxiety drug, into his co-worker's coffee because he thought she was too hyper.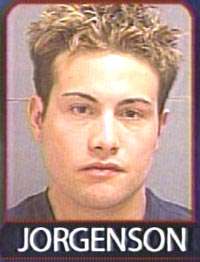 Xanax is described as a relatively mild anti-anxiety drug, but when mixed in the woman's coffee last October she says it made her ill, and later that night while at home she became unconscious. The victim also claims she required medical attention and lost two weeks of work.
The victim worked with the suspect, 22 year old Michael Jorgenson, at a place called Promise Healthcare located at Salt Lake Regional Medical Center. Several other co-workers have come forward saying Jorgenson admitted to putting the Xanax in Brown's coffee as a practical joke to calm her down.
When confronted with it, court papers say Jorgensen replied, "at least she would have been at the hospital." Jorgenson was charged with surreptitious administration of a substance.
This is a brand new charge on the books; it came out of legislation to punish those who use date rape drugs like GHB.
Robert Stott, Salt Lake County Attorney: "It was kind of generated by the fears that people had with the so-called date drugs, where people would be at a party and a drug or tablet would be slipped into their drinks and the next thing they know they were some place they didn't want to be."
Jorgenson is facing that same kind of charge. It is a third degree felony, and if convicted he could receive up to five years in prison.
Neither Brown nor Jorgenson still work for Promise Healthcare.
×