Estimated read time: Less than a minute
This archived news story is available only for your personal, non-commercial use. Information in the story may be outdated or superseded by additional information. Reading or replaying the story in its archived form does not constitute a republication of the story.
(KSL News) -- Last week we told you that Salt Lake City's Lincoln Elementary School was honored for a video students wrote and produced.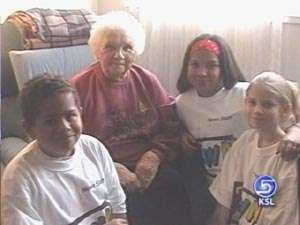 Their video, called "Grandma Evelyn -- our Inspiration" was one of eight top videos produced by children as part of Panasonic's Kid Witness News, a hands-on video education program.
Some of the Lincoln students traveled to New York City last weekend for the Awards ceremony and were surprised to learn they won the overall best video award.
Storm Field, Master of Ceremonies, New Vison Awards: "In this international spirit of the year, along with your award as best video, we're going to be sending you, courtesy of JAL, on a trip to Japan."
Lincoln is one of more than 200 schools in the country that participate in the Kid Witness News Program, but is the only participating school in Utah. There are also schools in seven different countries including Japan, Canada and the United Kingdom.
And now the kids of Lincoln are the international winners for their video.
×