Estimated read time: 1-2 minutes
This archived news story is available only for your personal, non-commercial use. Information in the story may be outdated or superseded by additional information. Reading or replaying the story in its archived form does not constitute a republication of the story.
Sam Penrod reportingShe's accused of stealing thousands of dollars from her employer, then killing her boss to cover it up.
This morning Kerri Brown was back in court.
The suspect was charged with the murder last week, after a three year investigation in a case, where she has been the prime suspect all along.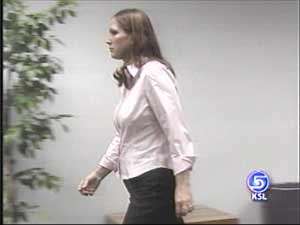 41- year old Kerri Brown appeared in court this morning to hear the murder charge against her.
In an unusual move, prosecutors did not ask that the suspect be required to post any bail on the murder charge, which was re-filed just last week.
Prosecutors say since Brown has never missed a court appearance and kept in touch with her attorneys that bail is not necessary right now.
But Brown is also in court today, for a preliminary hearing on embezzling charges, and prosecutors believe Brown's attempt to cover up the embezzling from her boss, was the motive for the murder.
Dave Wayment, Prosecutor: "We're talking about certain allegations of financial crimes against Kerri Fae Brown, the allegation in essence is that she embezzled money from her previous employer, Mira Vista Retirement Center."
It was in April of 2001, that Mina Pajela was found murdered in her own car in Pleasant Grove. The investigation eventually discovered more than 25-thousand dollars from her business was gone and that's when investigators uncovered Brown's alleged involvement in taking the money.
The financial crimes case is being pursued separately from the murder case and a judge is expected to rule later today if there is enough evidence for Kerri Brown to stand trial on the embezzling case.
×
Most recent Utah stories