Estimated read time: 3-4 minutes
This archived news story is available only for your personal, non-commercial use. Information in the story may be outdated or superseded by additional information. Reading or replaying the story in its archived form does not constitute a republication of the story.
Shelley Osterloh ReportingDuring last week's episode of Friends, fans left Ross and Rachel lip-locked in a big kiss. Ross had gotten upset with Rachel for not giving him -- the father of her child -- a private goodbye like she'd just given the other "Friends." She said it was just too difficult and then, the kiss.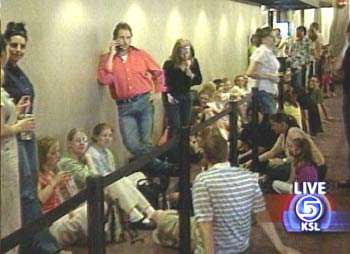 So, will Rachel dump her plans to move to Paris? If she doesn't, will Ross go with her?
The final two-hour episode begins tonight at 7:00, and we are told there are a number of "Friends" parties where folks will gather to watch together. Probably the biggest one around here will get underway over at the Gateway Megaplex.
You have to already have your invitation if you're going. KSL and Star 102.7 have been giving out invitations. And even if you were lucky enough to win one, you still better get here early to claim your seat.
Lots of things are planned there: Friends trivia contest, Joey Look a like contest, then at 7pm we will all watch to see what happens to our Friends in the last episode.
It's expected to attract a record number of viewers --- and add Friends to a prestigious list of famous television finales.
The show that was about nothing bowed out with a whole lot of hoopla, when in 1998 Seinfeld attracted an estimated 76 million viewers on its final show. The foursome ended up in court because they didn't stop to help out a man in trouble. And were sentenced to spend time in jail.
By the end, even Jerry was tired of all the hype surrounding that final show
Jerry Seinfeld, 1998: "I am amazed at the what has been going on this past week. Can you imagine what is like being me? I am sick of myself."
But fans seem to like to say good-bye to their favorite show. In 1983, 105 million MASH fans watched as the Korean War ended and those friends said good-bye. It was the highest rated entertainment program of all time.
The staff of Mary Tyler Moore's fictional newsroom was fired in 1977. It was one of the first series to capture an emotional grand finale on screen.
Series closers have become television events, good for networks, and important to fans. In the 1993 finale of Cheers, everybody was going off to something better.
"Norm's got a job. Cliff's got a promotion. Rebecca got a husband. This is the best day in the history of Cheers. Nothing could go wrong today."
And nothing seems to be going wrong for the cast and crew of Friends either. For ten years they've been our friends, and they won't be forgotten anytime soon.
There's almost no need to tape the show for your collection. It'll be out on DVD on Tuesday. Along with the one-hour finale, the ten-dollar disc will include the pilot episode and some behind-the-scenes material.
The six "Friends" did the important stuff together; they negotiated their contracts so each would get the same deal. So it makes sense that they will all get together tonight to watch the finale together.
×
Most recent Utah stories