Estimated read time: 2-3 minutes
This archived news story is available only for your personal, non-commercial use. Information in the story may be outdated or superseded by additional information. Reading or replaying the story in its archived form does not constitute a republication of the story.
Sammy Linebaugh ReportingLiberty Park Tennis has been transformed. Mayor Rocky Anderson dedicated a brand new clubhouse today.
Sit courtside at Liberty Park's new state of the art tennis complex and it's hard to picture this place in the roaring 20's.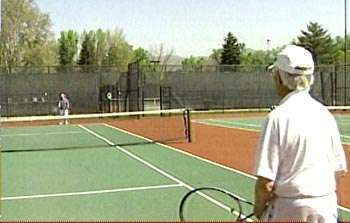 Cal Nelson, Friends of Liberty Park: "Someone could have come in a horse and buggy and played tennis. That's how old they are."
Cal Nelson was raised on these courts and helped fund the brand new clubhouse.
Bill Smart: "I didn't think I'd live long enough to see this facility we've got here."
So many Utah tennis greats have been slugging away here since they were kids.
Linn Rockwood, Utah Tennis Hall of Fame: "This guy a tough competitor? Really tough. All in spite of a terrible serve, he's still a tough competitor. Terrible serve is right."
Hall of Famer Lee Hammel has organized the "No Champs" -- one of the state's longest running tournaments -- with wife Ruby here at the Park for almost too many years to count.
The very first courts were built around 1915, but the park itself was dedicated back in 1882. In fact this very ground was once farmland owned by LDS President Brigham Young. After his death, the city bought the property -- all 110 acres -- for $27,500.
Wide open spaces within city limits, a place where family, kids could come play, that was the idea once again 'matched' as the new and improved tennis complex is drawing the seasoned and still learning.
Milton Gehrke: "The youngsters that are coming here flood these courts. It's just wonderful to see."
Historians say city planners in the 1800's actually patterned Liberty Park after New York's Central Park, with it's green space smack in the middle of all those skyscrapers. We've got a little growing to do yet.
×
Most recent Utah stories