Estimated read time: 2-3 minutes
This archived news story is available only for your personal, non-commercial use. Information in the story may be outdated or superseded by additional information. Reading or replaying the story in its archived form does not constitute a republication of the story.
Ed Yeates ReportingTwo teenagers are feeling pretty "cool" today. That's because scientists are honoring them for finding precious pieces of Utah's Ice Age.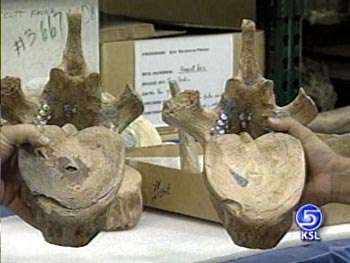 At a little ceremony hosted by the Utah Geological Survey, Wendy Whitehead and Tobin Worner were given replicas of some original fossils they found. Science teacher Todd Monson was also honored.
Near her home in Tooele, Wendy found a horn - a classic remnant of an Ice Age Musk Ox. And Tobin's discovery on the shores of Bear Lake -- a vertebra from a Mammoth.
James Kirkland, State Paleontologist: "I'm very impressed with these two and other kids I've met over the years who have found things and have been willing to give it up for science."
That's why these teens were singled out. Instead of destroying the sites or keeping the fossils for themselves, they gave them up for bit of idealism, hard to find these days.
Tobin Worner, Riverton High School: "Any bone that you find will be put into a museum would be welcomed by any paleontologist. So if you vandalize it, it's just like the destruction of history."
Wendy Whitehead, Tooele High School: "I would say give the Utah geological survey some business. Bring the bones in and get them identified and into a museum."
The UGS has now placed molds of Wendy's and Tobin's fossils in new kits schools can use to teach kids about the Ice Age. Who knows, maybe others will uncover rare finds - like six-year old Christopher Wolfe.
James Kirkland, State Paleontologist: "Had the horn of the oldest horned dinosaur ever found in the world sitting there, lined up for his dad to see on this hillside."
That dinosaur now bears Chris' name for all the world to see: Zuniceratops Christopheri.
Those Ice Age kits are now available to schools on loan for two weeks periods.
×
Most recent Utah stories