Estimated read time: 2-3 minutes
This archived news story is available only for your personal, non-commercial use. Information in the story may be outdated or superseded by additional information. Reading or replaying the story in its archived form does not constitute a republication of the story.
Coco Warner ReportingThe level of competition for cheerleading in Utah has seen a big jump in recent years, and for people involved in the sport, that means a bigger investment of money and time.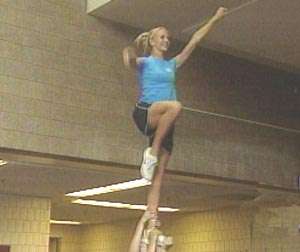 The cheerleaders themselves are only part of Utah's cheer industry. There are the gyms that offer classes, the coaches who give private lessons, and the companies who clothe them. Yes, the monetary costs can be high, but so are the personal ones.
Jill Griffeth, Northridge Cheer Co-Advisor: "We are considered the number one sport for injuries even over football."
Coaches say the talent pool that feeds Northridge High School just gets bigger and better. And because of that, the squad pushes itself to pull harder stunts. Last year, Northridge took a cheer to a national competition in Florida and placed 16th in the large varsity category. But all those difficult stunts can be dangerous.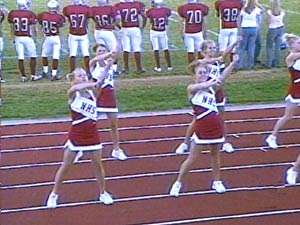 Jill Griffeth, Northridge Cheer Co-Advisor: "When they're trying the stunts they fall a lot, but we are on mats, so we'll make sure they don't get really hurt."
Clay Reeves, Clay's Tumbling & Cheer: "I don't push the stunting because I feel like my girls aren't strong enough for it. They can do some of the easier stunts, but I don't push the really heavy skills because a lot of them are the same size."
At Clay's gym the girls concentrate on their tumbling skills. But perfecting the passes costs money. Most of the girls interested in being a cheerleader take a one-hour tumbling class and a one-hour cheer class. The cost? 65 dollars a month.
Clay Reeves: "The more popular it gets, the more gyms you're going to find popping up."
And classes are only part of the cost; outfitting your cheerleader can cost hundreds of dollars. Because cheer isn't considered an official sport, the squad has to shoulder the financial burden themselves. At Northridge each cheerleader is expected to come up with $1,200 to cover the cost of uniforms and cheer camp.
Jill Griffeth: "It is quite expensive, but we provide fundraisers here and they're big fundraisers."
Another unseen cost? Time. These kids spend hours and hours practicing, and then hours and hours supporting other sports -- an effort that's not always seen as effort.
Kandyce Crown, Northridge Cheerleader: "Lots of people have their different opinion on cheerleaders."
Erin Parish, Northridge Cheerleader: "I think they think that all the cheerleaders are just ditsy and don't really know anything, but yet we have to keep our grade points up higher than all of the rest of the teams."
And for one male member on a squad of 25 girls there's another benefit.
Landon Drean, Northridge Cheerleader: "It's fun because not a lot of guys do it, so I get most of the girls to myself."
And you want more benefits? Coaches and parents say the sport teaches commitment, self-discipline and confidence.
×
Most recent Utah stories