Estimated read time: 2-3 minutes
This archived news story is available only for your personal, non-commercial use. Information in the story may be outdated or superseded by additional information. Reading or replaying the story in its archived form does not constitute a republication of the story.
Kim Johnson ReportingTelemedicine has been around for several years now -- doctors use video conferencing and high speed internet connections to provide medical expertise to rural areas in Utah. But it was recently used in an emergency situation that just may have saved the life of a Nephi man.
That Nephi man is now recovering nicely at University of Utah hospital, thanks to "Telestroke". The system was implemented only a year ago, and its first big test came just two weeks ago.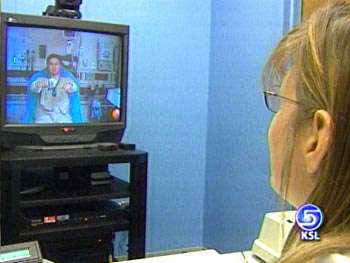 Dr. Elaine Skalabrin demonstrated how the Telestroke system works. Through a T1 line and a television monitor, she, at University Hospital, is able to talk to and examine a patient at a hospital in Nephi, just as she did two weeks ago when 63-year-old John Ludlow suffered a stroke.
John Ludlow: "I was riding my bicycle home and my left arm went numb, then my left leg. I made it home, crawled into the house and found the phone and tried to call my wife and help."
Ludlow says the next thing he remembers is his doctor in Nephi talking with Dr. Skalabrin, a stroke specialist, through a TV monitor.
In addition to examining Ludlow, Skalabrin had access to his lab results and CAT scan via the internet. She was able to determine he'd suffered a brain hemorrhage that had ruptured into other vessels and arteries, and that he needed to be flown to Salt Lake quickly. An air med team was dispatched to Nephi.
John Ludlow: " I couldn't believe we were talking to her, and she could read the CAT scan that I'd had. And by the time I got here, the hospital here was all ready for me, ready to go."
Elaine Skalabrin M.D., Neurologist: "We were able to act together as a team and really stabilize him, and get him up here quickly, and get the neurosurgeons involved early, which is really helpful."
Mr. Ludlow is now recovering well at University Hospital. He says he's grateful that Nephi is one of three hospitals connected to Telestroke. The other two are Monticello and Roosevelt. Tooele Hospital, and Allen Memorial in Moab, should be on-line very soon.
The aim of Telestroke is to provide stroke expertise for all rural hospitals.
×
Most recent Utah stories