Estimated read time: 2-3 minutes
This archived news story is available only for your personal, non-commercial use. Information in the story may be outdated or superseded by additional information. Reading or replaying the story in its archived form does not constitute a republication of the story.
Kimberly Houk ReportingSeveral Hillcrest High School students were suspended today for wearing controversial t-shirts to school, and now the ACLU is involved.
Tempers flared over three words printed on the shirts. Students feel it was nothing more than an anti-smoking slogan. Hillcrest High's Vice Principal, however, sees it differently.
The students wearing the t-shirts were sent home. The t-shirt that's creating all the controversy says, "Queers Kick Ash". More than a dozen students were caught wearing the t-shirt to school. They were given three choices: to change, take the shirt and turn it inside out, or go home.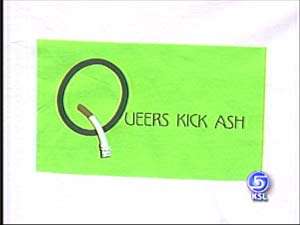 Linda Sandstrom: "We're here for education and anything that might disrupt or tend to disrupt or cause any difficulty in going ahead with the regular education program, is always a concern. "
And she says a certain t-shirt is a disruption. But the students who are trying to wear it say it's nothing more than an anti-smoking campaign targeted at homosexuals--a group that's statistically more at risk to pick up cigarettes.
Linda Sandstrom: "I guess that it is a legitimate anti-smoking campaign."
But Sandstrom says the slogan is offensive and packed with double meaning.
Linda Sandstrom: "One of the concerns is that sometimes the students that are gay or lesbian get called some unfortunate names, and that word happens to be one that was used along the way."
Students caught wearing the shirt were suspended if they chose not to change clothes.
Cindy Johnson, Student: "I think it's stupid that they expelled kids for wearing them. I don't think there's anything wrong with it."
Natalie Sanaty, Student: "It offends people. I don't think it's right."
Offensive or not, the American Civil Liberties Union say kids have the right to wear them. The ACLU released this statement today, "The Supreme Court has firmly established that students have a Constitutional right to political speech and expression, and when "Queer Eye for the Straight Guy" is one of the most popular programs on TV, and universities all over the country have queer theory programs, there's no doubt that it's a commonly-used political term."
But Hillcrest High says it won't be budging on the issue.
Linda Sandstrom: "This one is very difficult and there's no way we can make it work in its current form."
For those students who were suspended, it is only a one-day suspension, but they do have to bring their parents to school to talk with the principal before they are allowed back in.
×
Most recent Utah stories