Estimated read time: 1-2 minutes
This archived news story is available only for your personal, non-commercial use. Information in the story may be outdated or superseded by additional information. Reading or replaying the story in its archived form does not constitute a republication of the story.
Kimberly Houk ReportingNew flood control structures are now in place above the Compton Bench area in Farmington, to protect homes against more mudslides.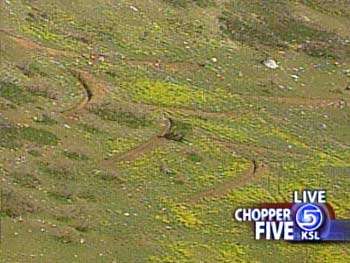 After seeing a lot of sliding mud head for several homes last month during a big downpour of rain, the United States Forrest Service says it had to do something to protect these homes from future rain storms.
They dug deep trenches in a way that will re-direct the overflow of water, mud, and debris away from the homes.
Gary Cahoon, Farmington City Corp.: "It just kind of creates a fan effect on the mountains so there won't be any concentrated flows."
Steve Willey, Farmington Resident: "I trust the city and their judgment and what they're doing. And I think they've probably done a good job to secure the mountain."
Last month's mudslide was a big problem for homes built along its downward path.
Gary Cahoon: "Our system is built to handle water, but when you set surface flows of water, and mud, and debris, it's terrifying."
Another problem was last summer's fire that ripped through the canyon, stripping it of a lot of vegetation -- growth that would have been used to combat mudflows during heavy rainstorms.
But today, the city has a temporary fix, a structure that will see them through the summer, and they do have plans for something more permanent to be built this fall.
Gary Cahoon: "We envision a kind of a banana shaped structure that would be a detention basin and a retention pond."
The city is still trying to secure the funding to build that permanent structure. The money will come from citizens, the city, and the federal government.
×
Most recent Utah stories