Estimated read time: 4-5 minutes
This archived news story is available only for your personal, non-commercial use. Information in the story may be outdated or superseded by additional information. Reading or replaying the story in its archived form does not constitute a republication of the story.
(Tonya Papanikolas Reporting
A wife tries to save her husband from a fire, but isn't able to rescue him. A Sandy family is mourning the loss of a father and husband today.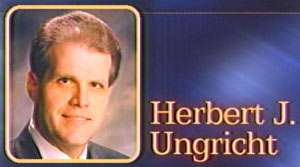 Herbert Ungricht died in an early morning house fire while the rest of his family escaped. Investigators are still combing through debris and evidence this evening.
The fire started in the garage. Herbert's wife told neighbors that her husband was in there putting some things away. Fire officials say they don't know if he was in there before the fire started or if he went in to see what happened, but sadly, he never came out.
Jeff Jones: "I looked out my bedroom window and I could see part of the garage door had been blown off and flames inside and so I told my wife, 'call 911.'"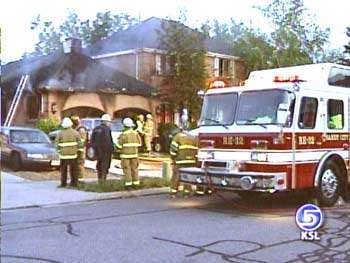 The fire was at 8478 S. 1985 E. Stunned neighbors this morning watched in shock as the Ungricht family home was threatened by flames and rocked by small explosions.
Lisa Poulsen, Neighbor: "After the fire got larger, things were exploding - paint cans, I don't know. Popping explosions."
Barbara Saylor, Lives Next Door: "It was very scary. The fire spread quickly. It got big fast. There was nothing we could do."
The Jones family lives across the street. When they saw the flames, they ran to help.
Jeff Jones: "Initially my concern was there was maybe someone in the garage. Part of the garage door had been blown off. I was trying to pull it out so I could get in to see what was going on. The metal was just too strong. It was starting to get hot at that point in time."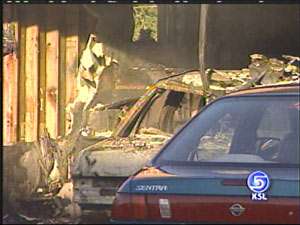 So Jones pounded on the front door and told the mother and daughters to get out. That's when he learned the father, Herbert Ungricht, was in the garage and his wife had been trying to reach him through the inside garage door, which was also too hot to enter.
Barbara Jones: "Her hands were burned. She was in shock. She didn't have the proper clothing on. I grabbed blankets, I ran over. We were in the driveway."
While Barbara was taking care of Mrs. Ungricht, her husband grabbed a hose and tried to put out the flames. But the fire just grew too fast.
Barbara Saylor: "It's a horrifying experience to see it happen, and um, very, very sad."
Mrs. Ungricht was taken to St. Mark's hospital and later released. She and her daughters will be living with family for a while.
They were the first ones to call 911, but when the neighbors woke up and tried to call, they couldn't get through. Barbara Jones says she got the sound of a fax line twice before she finally dialed zero over and over again.
The deputy fire chief says the system can get overwhelmed when a lot of people in one area call 911. He says the system is under evaluation.
Herbert Ungricht was respected in his profession and a leader in his Latter-day Saint community. He served as a Latter-day Saint bishop at the University of Utah.
He is being remembered today as a man devoted to his wife and five daughters, and a man whose life touched hundreds, perhaps thousands of people for good.
For the last year and a half, Bishop Ungricht was the ecclesiastical leader for a couple hundred Latter-day Saints, married students at the University of Utah. Those who served with him say he had the admirable quality of remaining calm in every situation.
Richard Porter, LDS Stake President: "He felt things deeply, but he didn't let it show, which made him, to me, a great leader. Because when other people felt like things might be getting pressured or falling apart, not to Bishop Ungricht. We're ok, we can do this, we can handle. So that was a great gift to bring to that setting."
Dr. Herbert Ungricht had another great gift, that of healing. For years he practiced medicine as an eye surgeon. He was well respected, considered one of the good guys.
His patients and many students are mourning the loss of the man they call a wonderful influence in our community.
×