Estimated read time: Less than a minute
This archived news story is available only for your personal, non-commercial use. Information in the story may be outdated or superseded by additional information. Reading or replaying the story in its archived form does not constitute a republication of the story.
(Provo-AP) -- Court proceedings for a woman charged with several counts of felony child abuse were to have been concluded this week in Provo.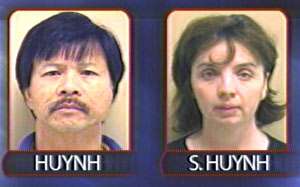 But Shelly Huynh decided late last week against accepting a plea agreement with prosecutors.
Court Administrative Office Nancy Volmer says Huynh now will be back in court next month to reschedule proceedings. Her trial was to have started today.
Police have said that Huynh and her ex-husband Chay Huynh abused their sons by pulling out their teeth, and leaving them without food for days in a basement.
One of the boys said his mother forced him to breast-feed when he was ten-years-old, and the other boy said his father put pliers to his genitals.
Chay Huynh in February pleaded guilty to two misdemeanors in an agreement with prosecutors.
(Copyright 2004 by The Associated Press. All Rights Reserved.)
×