Estimated read time: 2-3 minutes
This archived news story is available only for your personal, non-commercial use. Information in the story may be outdated or superseded by additional information. Reading or replaying the story in its archived form does not constitute a republication of the story.
Jed Boal ReportingLater this month, thousands will help dedicate the National World War II Memorial in Washington, DC. For many veterans of that war, the memories surface often and with a lot of emotion. Jed Boal talked to a Utah pilot who didn't think he'd ever make it home.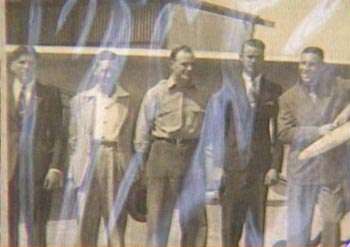 Sixty years after he fought for his country in the Pacific, a Utah combat pilot shared his reflections of war. He says the US came awfully close to losing, about as close as he came to death.
As Phil Shumway looks through photos more than a half-century old he remembers friends, fallen comrades, and getting married 40 days before he left for the war in the Pacific.
Shumway grew up in Arizona and joined the Army Air Corps with two friends the day the Japanese bombed Pearl Harbor. He flew 59 combat missions.
Phil Shumway: "Some of them were not harsh, some of them were."
Shumway strafed enemy positions and covered convoys and bombers in the Solomon Islands and Guadal Canal. Sharing the memories, the former pilot chokes back the emotion.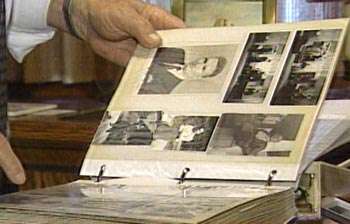 Phil Shumway, WWII Veteran: "We weren't quite prepared and we lost a terrible number of people."
On one mission engine trouble forced him to crash land on a rough sea. He came to as the plane sank, but deployed his emergency life raft.
Shumway: "This boat was my home for the next eight days, and it was not a very happy home."
He literally hung in there on a tiny boat with a candy bar and less than a pint of water to survive. Two storms tossed him about, but the rain water kept him alive. He lost hope, then a passing convoy spotted him and he was rescued the next day.
Shumway's fight for life in some ways parallel's the US mission
Shumway: "We came so close to losing. I think it should be remembered by everyone in our country from now until its end."
Phil Shumway and his wife Nelda will never forget; they nearly lost their chance at a long life together.
Shumway lost 40 pounds drifting on that raft, but recovered quickly and spent the rest of the war as a flight instructor.
Shumway will talk about his service this Thursday at the Salt Lake City Library at 7:00 as part of a World War II Veterans series.
×
Most recent Utah stories