Estimated read time: 2-3 minutes
This archived news story is available only for your personal, non-commercial use. Information in the story may be outdated or superseded by additional information. Reading or replaying the story in its archived form does not constitute a republication of the story.
Sandra Yi ReportingA Salt Lake City woman considers herself lucky to be alive today. A boulder that rolled down a hill near her home just missed her as it landed in her backyard. And get ready for this, it's not the first time it's happened.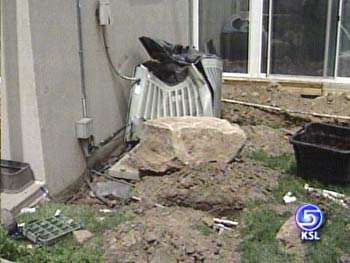 Both boulders rolled down the hill behind her house. Just up above it is a construction site. A house is being built up there. Fortunately, this time the boulder only damaged the air conditioning unit.
Helen Corbett: "I think I was in shock."
It was a rocky morning for Helen Corbett.
Helen Corbett: "Have you ever heard of 'three's the charm'? Well, I've had two in five months."
Two boulders that is. The first one, in December, weighed more than 3,000 pounds and landed in her sunroom. Corbett was in the kitchen when she heard what she said sounded like an earthquake.
Then today, another one took her by surprise, again. Corbett was in her backyard talking to some men who were working on her sprinkler system.
Helen Corbett: "I heard a rustling up above and I was waiting for some gravel to come down."
She saw the thousand pound rock quickly coming toward her. It barely missed her.
Helen Corbett: "I think it picked up momentum because it's coming from maybe 200 feet. If I had been standing there, I would have been taken in by that rock, taken down by that rock."
Both boulders rolled from a construction site above her home. No one was hurt, but Corbett says, emotionally she's between a rock and a hard place.
Helen Corbett: "Now I really think that I don't want to live here anymore and especially when my kids are already telling us that they don't want their kids here because of it."
She says, unfortunately when you're disrupting Mother Nature, things like this will happen. The homeowners are working with the construction company whose insurance will pay for the damages.
×
Most recent Utah stories