Estimated read time: 2-3 minutes
This archived news story is available only for your personal, non-commercial use. Information in the story may be outdated or superseded by additional information. Reading or replaying the story in its archived form does not constitute a republication of the story.
Sandra Yi ReportingThis is the time of year for prom and graduation, but police say too many teens choose to celebrate with a drink, then get behind the wheel.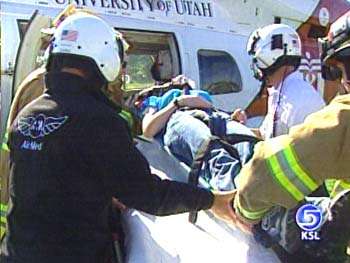 At Bingham High School students got a sobering lesson today. Two wrecked cars were brought in to encourage kids to stay sober.
Sgt. Dan Starks, South Jordan Police Dept.: "Maybe we think that one or two beers in our system isn't going to affect the way that we drive. Obviously, unplanned and unforeseen accidents take place."
The crash scene was fake, but the message is all too real. This is a sobering reminder that's timely, as kids are planning for, and celebrating, prom and graduation. Many of the high school students we spoke with say they know someone who drinks.
Erica Shumway: "Just today there were kids sitting right behind me in the bleachers talking about how they're so excited and they're going to drink themselves wasted."
Brooke Stoker: "I just know that a lot of people find it relaxing to do that and that a lot of people do it."
Jake Timpson: "They just want to fit in, do what's cool, peer pressure."
But a dramatization shown to the teens shows what can happen when people drink and get behind the wheel. In this crash one teen dies. Two others are critically injured. BJ Baldwin, the school's high school quarterback is arrested for driving under the influence. Baldwin says the experience was disturbingly real.
B.J. Baldwin: "It made me sick to my stomach to have that and see your friends; that when I was driving the truck, to see that they died, I actually killed somebody."
He says this re-enactment is worth it even if one life is saved.
B.J. Baldwin: "I hope that some kids that were maybe thinking about partying, look at this and say, 'That can happen to me'."
Statistics show young drivers between 15 to 20 years old are more involved in alcohol related crashes than any other age group.
×