Estimated read time: 2-3 minutes
This archived news story is available only for your personal, non-commercial use. Information in the story may be outdated or superseded by additional information. Reading or replaying the story in its archived form does not constitute a republication of the story.
Keith McCord ReportingUFO's over Utah? A local photographer snapped a picture this week that has people talking.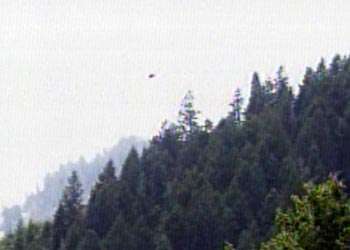 Tommy Woodard is a photo librarian for the Utah Film Commission, and this past Tuesday he took this photo in Provo Canyon.
Tommy Woodard, Photo Librarian, Utah Film Comm.: "Well it has the flying saucer shape that's so familiar. A saucer, that's all I can think of."
Tommy was in the canyon shooting still photos for a possible film location. He says when he took the shot of the mountainside, he never noticed the strange object.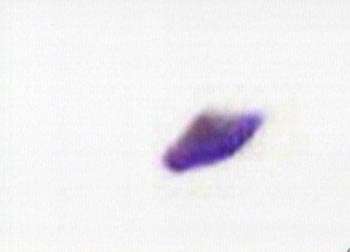 QUESTION: "Did you see that when you took the picture?" ANSWER: "I didn't. I had no idea it was there when I took the shot. So it really surprised me when I opened it back in my office. And I saw the disc shaped object, and the closer you get, it looks like a flying saucer."
His office co-workers found it amusing as well. Everyone has dropped by for a peek.
Not knowing what it was, Tommy contacted Hill Air Force Base to see if they had any planes flying in the area. He also sent a picture to the National UFO Reporting Center in Seattle. But the response from there was less than enthusiastic.
Tommy: "So he said it kind of looked like a bird. But, I mean, it must have been a bad picture I sent to him, because how can that look like a bird?"
Tommy Woodard enjoys science fiction so this has really peaked his interest. He says he wouldn't necessarily be disappointed if this turns out to be just a plane or a big bird. But if the mystery is never solved?
Tommy: "That'll be ok with me. It'll just be in the back of my mind for a long time!"
Since January, more than 1200 UFO sightings have been recorded on the National UFO Reporting Center website. There are two reports from Utah.
×
Most recent Utah stories