Estimated read time: 2-3 minutes
This archived news story is available only for your personal, non-commercial use. Information in the story may be outdated or superseded by additional information. Reading or replaying the story in its archived form does not constitute a republication of the story.
John Daley ReportingLooters and hobbyists have been stealing Native American cultural items and human remains from archaeological sites for years. Now the government says anyone can turn items in-- no questions asked, and they won't be prosecuted.
There are thousands of Native American archaeological sites all over Utah, all over the West. For instance, in downtown Salt Lake an Anazasi settlement was dug up while constructing TRAX. The Four Corners area also boasts a number of sites.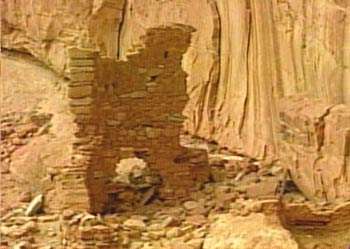 Unfortunately,bones, pottery, burial blankets and countless other cultural items have been looted. That's illegal; it's a felony that carries with it a prison sentence.
Today U.S. Attorney Paul Warner announced a campaign called "Restore and Respect Heritage." For a 90-day period the federal government is offering amnesty from prosecution for the return of any item, no questions asked. It's aimed at getting the return of vital Indian tribal objects and human remains in Utah, Arizona, Colorado and New Mexico.
Forrest Cuch, UT Division of Indian Affairs: "When it comes to human remains, you simply have a moral obligation. And you need to do it because it's the right thing to do. Show respect to the native people. I think you'll be blessed in return."
Patty Timbimboo-Madsen, Cultural Resource Manager Northwestern Shoshone: "It's difficult. You know they're there. They need to step forward. They need to go back in the ground."
Included on a list of missing items are a Hopi Mask and Hopi Coil Plaque discovered missing from an Arizona cave in 1979.
Anyone with items to return in Utah should contact the Utah Division of Indian Affairs at 538-8808.
Once the 90 day period is up, the U.S. Attorney's office says it will aggressively investigate and prosecute anyone who steals Indian objects or is selling them on the black market.
×