Estimated read time: 1-2 minutes
This archived news story is available only for your personal, non-commercial use. Information in the story may be outdated or superseded by additional information. Reading or replaying the story in its archived form does not constitute a republication of the story.
(KSL News) Police offer a safety warning after a man is slashed with a knife in West Jordan.
Police say the man was attacked when he tried to confront two men burglarizing his car inside his garage around 11:00 last night.
When the man tried to confront the suspects, one of them lashed out, stabbing the him three times---twice in the neck and once in the stomach.
The suspects then ran off into a field near the home while the man was rushed to the hospital.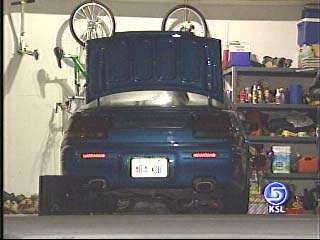 Investigators say in cases like this, call for help to avoid getting hurt.
Lt. Dan Gallagher/ West Jordan Police Dept.: "These people are unpredictable. You don't know how desperate they are to get those items. So again, we would suggest that you don't confront them on your own, that you let us handle that."
The victim suffered minor injuries from the attack.
Police used a K-9 unit to search for the men, but were unable to find them. They are still on the loose this morning.
West Jordan police say they're following new leads.
Burglary Suspects
25-26 years old
5' 5" tall
medium build
facial hair on chin
sideways black hat
black clothing
30 years old
6' tall
medium build
black clothing The two men are described as hispanic and dressed in all black. The first is about 25 year old, medium build with facial hair on his chin, and wearing a sideways black baseball cap . The second suspect, is about 30 years old and about 6-feet tall.
×
Most recent Utah stories