Estimated read time: 2-3 minutes
This archived news story is available only for your personal, non-commercial use. Information in the story may be outdated or superseded by additional information. Reading or replaying the story in its archived form does not constitute a republication of the story.
John Daley ReportingA scandal that has brought the resignations of two top Salt Lake County officials was at the top of the agenda for the county council today.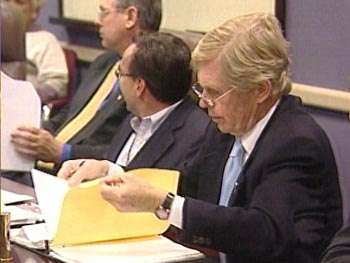 Often meetings of the county council get contentious, often along party lines. But today the council members were all in agreement. They say for elected and appointed officials, the policy should be that you don't get to use a county vehicle unless absolutely necessary.
The story about top Salt Lake County executives driving around in taxpayer-provided sports utility vehicles grew legs when it was revealed the county's chief financial officer used his to tow a boat to Lake Powell.
Then yesterday the county's financial watchdog--the auditor--stepped down. Records showed he got 4.6 miles a gallon and he admitted he'd been stealing gas.
Today the county council, often the scene of bitter partisan fights, was in complete agreement. The policy regarding personal use of county vehicles must be changed.
Joe Hatch, (D) County Councilman: "If you are an elected official or a political appointee in Salt Lake County, you get a car allowance; you don't get a car unless you are in emergency services."
The council today is urging Salt Lake county department heads to eliminate take-home vehicles. The council doesn't have the power to require it, but all members agree to support this resolution.
Eligible employees would get a car allowance instead---between 300 and 650 dollars a month.
Some of the county mayor's staff don't get either as of June 15th---by her orders.
Michael Jensen, (R) County Councilman: "The resolution was meant to show the public that we are taking corrective measures and taking the first steps necessary."
Meantime, the director of the county's fleet is defending his agency's overall management of the fleet. He says the county has studied the issue carefully and found that by buying some popular models of new SUVs and then reselling them just a couple of years later, the county actually saves lots of money on maintenance rather than buying cars and driving them for years and years.
Nick Morgan, Fleet Director: "This is just an anomaly. These two situations happen to involve high-profile people and individuals and it's just escalated into a runaway horse, basically."
×