Estimated read time: 2-3 minutes
This archived news story is available only for your personal, non-commercial use. Information in the story may be outdated or superseded by additional information. Reading or replaying the story in its archived form does not constitute a republication of the story.
Sam Penrod reportingA Greyhound bus driver taken hostage by a passenger makes a dramatic escape. "The bus driver saw an opportunity. It took a lot of courage to jump out of that bus," authorities say.
The bus, headed from Las Vegas to Chicago, was just outside of Green River on I-70 around 2:30 this afternoon when a passenger pulled a knife.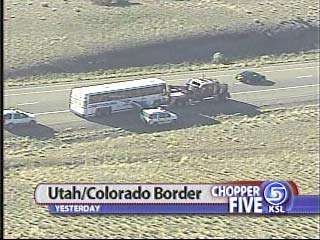 The man supposedly hijacked the bus to take him to Nebraska, to see his estranged wife. Instead, he's in jail in Moab tonight. But he made it more than 50 miles on a remote stretch of freeway before being caught.
After the hijacker pulled the knife, he ordered the bus driver to pull over. Then he kicked the 60 other passengers off the bus, but held the knife to the bus driver, telling him to keep going.
Sgt. Richard Haycock/ Utah Highway Patrol: "The passengers were ordered off the bus, and left straded on the side of the highway. A motorist called 911."
The bus passengers were taken to a motel in Green River and later picked up by another Greyhound bus.
Troopers say 29-year-old Antonio Hernandez is the hijacker, and he apparently wanted the bus to take him to Nebraska.
Sgt. Richard Haycock was able drive along side the bus to see what was happening, before getting in front of the bus and slowing it down.
Sgt. Richard Haycock/ Utah Highway Patrol: "I could see the suspect's actions. I could see the bus driver. I was able to view what was happening there."
As the driver approached the Utah Colorado state line, and knew troopers were in front of and behind him, he slammed on the brakes and jumped out of the moving bus.
Sgt. Richard Haycock/ Utah Highway Patrol: "The driver was able to jump out of the bus at about 20 miles per hour. He suffered some bruises, skinned knees and hands, but he was okay otherwise."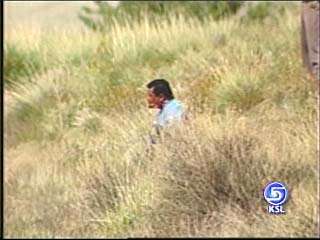 For the next 45 minutes, troopers negotiated with the suspect inside the bus, who eventually put down the knife and surrendered.
Sgt. Richard Haycock/ Utah Highway Patrol: "He was standing in the steps and we were talking to him. He wanted to die and we talked him out of it and he finally put down the knife."
Antonio Hernadez is apparently from Nebraska. Tonight he faces numerous counts of kidnapping.
×
Most recent Utah stories