Estimated read time: 2-3 minutes
This archived news story is available only for your personal, non-commercial use. Information in the story may be outdated or superseded by additional information. Reading or replaying the story in its archived form does not constitute a republication of the story.
OREM, Utah (AP) -- A Provo woman claims she has lost vision in her right eye after being pushed down theater steps by an off-duty Utah County sheriff's deputy.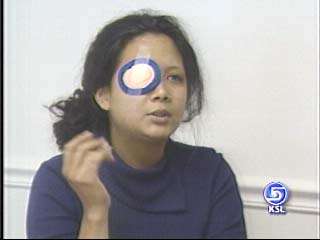 Vanessa Arnold, 22, said through an interpreter at a news conference at her attorney's office in Orem Tuesday that her head hit the back of a chair as she fell down the stairs of a Cinemark 16 at Provo Towne Centre on May 23.
Arnold, who plans to file a civil rights complaint, said she was with her date, Lorenzo Castillo, and her father at the movie "Troy" and Castillo was translating parts of the picture from English into Spanish for her.
She said a man, later identified as sheriff's Deputy Skip Curtis, sitting in front of them angrily told them to stop talking and called her a name.
Arnold said that after the movie, Castillo told Curtis that he owed her an apology, and after some arguing, Curtis flashed his badge and said Castillo was under arrest.
Curtis grabbed Castillo's arm and took him toward the aisle, she said.
Arnold said she tried to put herself between the two men to ask Curtis why he was taking Castillo. She said Curtis grabbed her by the arm and pushed her down the stairs.
She says she lost vision in one eye from the altercation, and has not been able to return to work.
Sheriff Jim Tracy said the deputy recalls the incident differently.
"It's a deputy who was at a movie and an incident occurred because of some activity by this party that's involved that was being generally annoying to both this deputy and other people who were trying to watch their movie," Tracy said.
"It ceased for a while and it was brought up again as far as an issue by this individual and her (date). ... He felt like things were getting to the point where it might get out of control," Tracy said.
Tracy said Curtis was unavailable for comment, because the incident is under investigation by Provo police. Curtis' status with the sheriff's office has not changed,
Arnold said Provo police officers came to her house to speak with her a few days after the incident.
She said the officers suggested the deputy actually had been trying to help her at the theater, and they urged her to forget about the incident.
Arnold said the officers said they were going to send immigration officials to her home. She said she is a U.S. citizen.
Arnold's attorney, S. Austin Johnson, said he advised her to talk to reporters because he felt the officers were trying to intimidate her so she would not sue.
Johnson said he would file a civil rights complaint in state or federal court alleging excessive force and abuse of authority by a police officer.
(Copyright 2004 by The Associated Press. All Rights Reserved.)
×