Estimated read time: 3-4 minutes
This archived news story is available only for your personal, non-commercial use. Information in the story may be outdated or superseded by additional information. Reading or replaying the story in its archived form does not constitute a republication of the story.
Ed Yeates ReportingFor the first time this season, mosquito abatement districts have taken to bicycles to kill mosquitoes in every little water hole they can find.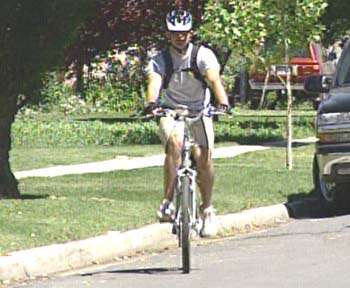 You may not even notice a birdbath in your yard. In just a matter of days, only that much standing water - not more than a half inch deep - can breed more than 200 mosquitoes.
That's why patrols are out and about in neighborhoods now looking for their hiding places. These cyclists are not police, but Mosquito Abatement folks.
John Calder, SLC Mosquito Abatement District: "If you see us on the road, don't hit us with your cars. I like my legs."
Students John Calder and Coby Neville are not carrying guns but little pouches of corn which they drop into every puddle of water -- in gutters, in storm drain catch basins - you name it.
Coby Neville: "The pellets are corn-cobbed based and there's bacteria that grows on them. And when we add them to the catch basins, the mosquito larvae will feed off the corn cob and then within the next couple of hours it will destroy their stomach lining and they will die."
The bacteria kills only the mosquitoes. It will not hurt wildlife or birds or pets - even kids who may play in the water.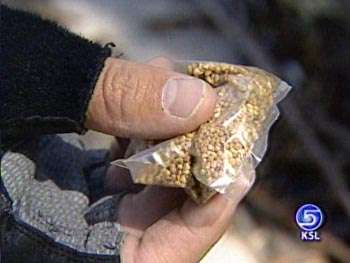 Why the aggressive attack this year? To knock down the population of our native nighttime biting mosquitoes which can carry the West Nile virus from an infected bird to a human.
So how can we all help?
Dr. Sam Dickson, Manager, SLC Mosquito Abatement District: "So if they can sweep the water out, it will help. If they will get the grass clippings and other debris out of the gutter in front of their home, it will reduce the amount of mosquitoes that they will have."
Take a survey of your yard every three or four days. If you find standing water in anything, dump it out, especially this year!
Meanwhile inside a shop at the Davis County Mosquito Abatement District, Gary Hatch and Brandon Anderson are making some makeshift modifications to a bug zapper.
Brandon has drilled some holes into an over-the-counter picnic cooler, so the vapor from dry ice inside will make the zapper more inviting to mosquitoes.
Why the dry ice? Because as it vaporizes, the dry ice produces carbon dioxide and that's what attracts the mosquitoes. In Gary and Brandon's experiment so far, two pounds of ice in a simple cooler jug will last the whole night.
The most effective modification may be one where a tube runs directly from the cooler jug directly into the zapper.
Gary Hatch, Manger, Davis County Mosquito Abatement District: "You might not want to have this out zapping while you're out barbecuing because you'll be drawing more mosquitoes to your yard. But once they come into your yard, if you're out there too, you're a lot more attractive than that cooler full of dry ice."
Gary and Brandon will test the new mosquito zappers at their homes for the next several days. If they work, the blueprints will be on the Davis County Abatement District web site.
×
Most recent Utah stories