Estimated read time: 2-3 minutes
This archived news story is available only for your personal, non-commercial use. Information in the story may be outdated or superseded by additional information. Reading or replaying the story in its archived form does not constitute a republication of the story.
Sandra Yi ReportingThe state health department 'puts out' funding for an anti-smoking campaign targeted at homosexuals in Utah. The health department says it has the option to not renew the contract, but campaign organizers believe, that decision was made, over a t-shirt.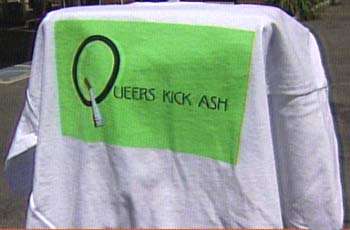 Jennifer Nuttall, GLBT Community Center of Utah: "It would be very unfortunate if they were willing to put political gain over a public health concern."
Nuttal says the decision was unexpected. She blames the funding fallout on a recent controversy, over a t-shirt that says, 'Queers Kick Ash'.
That's the slogan of an anti-smoking campaign by 'The Gay, Lesbian, Bisexual, Transgender Community Center of Utah'. The year-old program was funded by the Utah Health Department.
Jennifer Nuttall: "We've had a really great working relationship with them and we've been running a very successful program."
Nuttall says the timing of the decision is no coincidence. Last month, some Hillcrest High School students participating in the campaign wore the shirts. Administrators said they were a distraction, and the slogan, filled with double meaning. Several students were suspended.
Jennifer Nuttall: "It was an anti-tobacco message and it was targeted to queer kids, so their reaction was confusing to us."
Nuttal says she's disappointed because public health seems to be losing out to politics. She cites statistics that show, when it comes to tobacco use, young homosexuals, between 14 and 24 years old, are at risk.
Jennifer Nuttall: "That population smokes at a rate of 58% compared with the non queers at 35%, so it's quite a big disparity."
A spokesperson for the health department declined to comment, but released a statement saying, the decision was made "in an attempt to prevent the anti-tobacco health message from being overshadowed by unrelated advocacy activity."
The Center wants the health department to reconsider. Organizers plans to appeal the decision, or just reapply for funding.
×