Estimated read time: Less than a minute
This archived news story is available only for your personal, non-commercial use. Information in the story may be outdated or superseded by additional information. Reading or replaying the story in its archived form does not constitute a republication of the story.
The violence over the weekend in Afghanistan meant very different things to different people. To Republicans, it showed that we need more troops there. To Democrats, it shows that we can never stabilize that part of the world and should bring our troops home before we lose any more. ABC's Political Consultant Steve Roberts shared interesting perspectives on this, on Geroge will's comment that he wished Dick Cheney had "dithered a little" in his actions in Iraq and Afghanistan, and on President Obama's declarartion of a "national emergency" regarding the swine flu. Click here to hear the interview.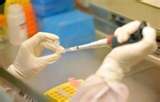 President Obama's daughters have not been vaccinated yet with the H1N1 vaccine. The president declared the swine flu a national emergency over the weekend. That declaration does not trigger increased production in the vaccine, but it does bend some of the usual federal rules so that hospitals and health care providers can act more quickly. Quick here to hear the latest from Ann Compton at the White House.
×
Most recent News stories