Estimated read time: 2-3 minutes
This archived news story is available only for your personal, non-commercial use. Information in the story may be outdated or superseded by additional information. Reading or replaying the story in its archived form does not constitute a republication of the story.
Keith McCord ReportingA lot of mothers with teenagers can identify with this, especially those with daughters -- the battle at the clothing store! Daughter wants to wear something more revealing, Mom says no.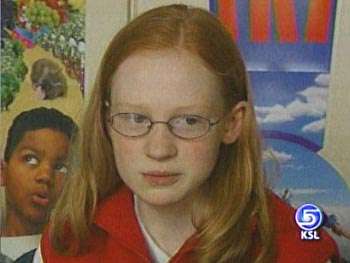 Then there's the story of an 11-year old girl in Redmond, Washington. Ella Gunderson recently walked into a Nordstrom and didn't find clothing she felt comfortable wearing; it was not modest enough. So, she wrote a letter.
Eleven-year old Ella Gunderson has become sort of a household name, and the darling of a lot of moms. After an unsuccessful shopping excursion, she sent a letter to the head of Nordstrom, saying she doesn't like all the low-riding and belly baring clothes.
Ella Gunderson: "I'm hoping that people will notice that you can be modest and still look good."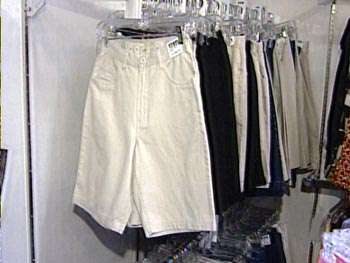 Ella's statement about modest clothing rings true here in Utah. There are several stores that sell nothing but that style-- "Kneeshorts" Clothing in Sandy and Orem and "Modestbydesign" Clothing, in Midvale. When Ella's story made the networks, business here boomed.
Heather Gist, Modest By Design Clothing: "Oh it's been huge. In the last couple of days, this article came out and it mentioned our web site, and our web site has been so busy our server has actually gone down."
But, the computers are back up and orders are coming in for everything from prom dresses to shorts and shirts. At "Kneeshorts" -- well the name pretty much says it -- shorts in a variety of colors.
Scott Askew, Kneeshorts Clothing: "It's really amazing to us. When we started this the reaction we got from all over the place."
Though the story of the 11-year old girl made headlines, the folks at Kneeshorts and Modest By Design clothing say the modest styles have been popular for quite some time.
Heather Gist: "We're finding that there's so many people out there that are so tired of having something hanging out that they wouldn't want to show."
This isn't just a Utah thing either. Both stores say they have customers all over the world. It's a style that really has become "mainstream
Scott Askew: "Our commitment is to not sell anything immodest. And if we brand ourselves that way, market ourselves that way, and expand the product line to the things that people have asked us for, we can get a lot bigger."
Both Kneeshorts and Modest by Design have plans to open additional stores.
Nordstrom did write back to Ella Gunderson, explaining that the store does have more modest clothing and plans to carry more styles.
×